Another time Samsung has touched the hype for its new Samsung Galaxy S23 Ultra launch. And there will not be any second thoughts that it will be the best-selling smartphone of the year.
Samsung Galaxy S23 Ultra is designed to take you beyond the limits. It has all possibilities that you have ever thought of. The cutting-edge technology, sleek configuration, and impressive features make the Galaxy S23 Ultra the perfect device for those who demand the best. In this article we have covered in-depth knowledge about the new addition to the Samsung Galaxy S series. Its exciting features include a sleek design, a sharpened camera, a long battery life, mind-blowing memory, storage, and much more. So why delay? Let's find out!
Samsung Galaxy S23 Ultra – Quick Specs Table
DISPLAY

Type
Dynamic AMOLED 2X, 120Hz, HDR10+, 1200 nits (HBM), 1750 nits (peak)
Resolution
1440 x 3088 pixels
Size
6.8 inches, 114.7 cm2
Protection
Corning Gorilla Glass Victus 2

MEMORY

Card slot
NO
Internal
256GB 8GB RAM, 256GB 12GB RAM, 512GB 12GB RAM, 1TB 12GB RAM

MAIN CAMERA

Quad
200 MP (wide), multi-directional, 10 MP(periscope telephoto), 10x optical zoom
12 M, Dual Pixel, Super Steady video
Features
LED flash, auto-HDR, panorama
Video
8K, 4K, 1080p, HDR10+, stereo sound rec

SELFIE CAMERA

Single
12 MP, Dual Pixel
Features
Dual video call, Auto-HDR, HDR10+
Video
4K, 1080p@30fps

SOUND

Loudspeaker
Yes, with stereo speakers, but No Jack

BATTERY

Type
Li-Ion 5000 mAh, non-removable

FEATURES

Sensor
Fingerprint (under display, ultrasonic), accelerometer, gyro, proximity, compass, barometer
USB
USB Type-C 3.2, OTG
Bluetooth
5.3, A2DP, LE
Radio
No
Exciting Features of the Samsung Galaxy S23 Ultra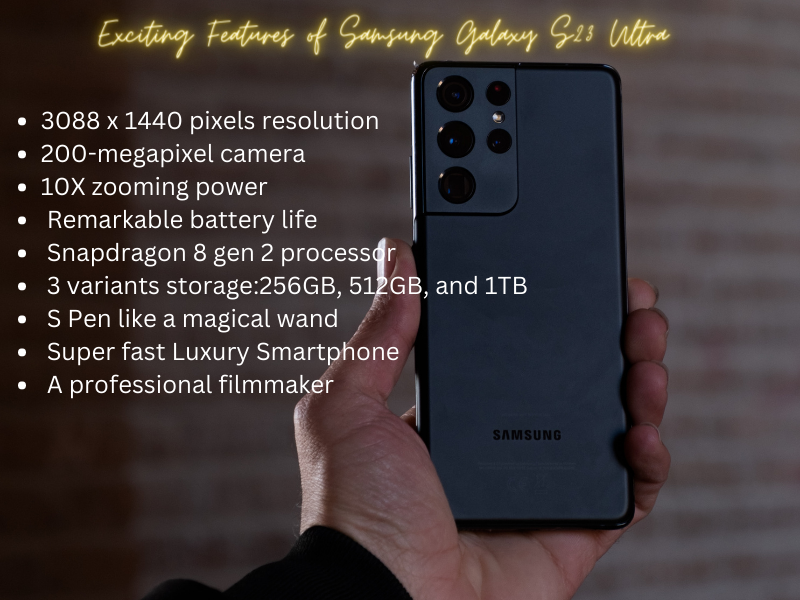 Samsung has taken a bold step in combining its top-performing smartphones. We all know they have merged its two most beloved smartphone lines, the Galaxy S series and the Galaxy Note, and created the Galaxy S23 Ultra. This technological show-off is an impressive arrangement of features that left competitors with desire. Just check out its matchless camera capabilities and versatile S Pen functionality, which is generally remarkable. Anyhow we have a lot more fascinating features to discover here, such as:
Display
The revolutionary display of the S23 Ultra is surprising to every eye. If we talk about the display of the S23 ultra smartphone, it is a case of modern technology. Its visuals make your eyes feel like they're feasting on a bright future.
Samsung S23 Ultra display size is fascinating at first glance. It has the most expansive screen, 6.8 inches from edge to edge. The visual experience will never allow the glass to intercept. It wouldn't be wrong to say it's like a mini cinema in the pocket. But this is not just the attractive size the S23 Ultra's display boasts a stunning 3088 x 1440 pixel resolution. It can deliver good, clear images with every swipe of your finger.
So this significant new change can give you the best experience, whether scrolling through social media, playing games, or watching a movie. Well this smartphone is level up for all time. And ultimately the Samsung S23 Ultra's display resolution has also made it mind-boggling if you like gaming. The S23 screen resolution has been increased by 120 Hz; that's truly incredible. It is so smooth and highly responsive that it will make you feel like you are in the game.
And the most interesting part of the Galaxy S23 Ultra is its top-rated colour accuracy. It can make every view of the screen overwhelming. Samsung galaxy s23 ultra display type is Dynamic AMOLED 2X, 120Hz, HDR10+, 1200 nits (HBM), 1750 nits (peak). It is a wide colour range, and its vibrant colours will tell you the truth about visuals. And again colour accuracy can bring life to every glance of the display.
Camera
This time the Galaxy S23 Ultra has changed the scenario of the mobile camera. Mobile photography was never given this experience before. The Samsung Galaxy S23 Ultra camera result is truly something extra. Whether you capture a daytime photo at daytime or a night, it's excellent.
There are four cameras on the phone, 200MP wide-angle primary camera, 12MP ultra-wide, and 10MP, with a 3X optical zoom telephoto camera. Its selfy camera is also fantastic with 10MP with 10x optical zoom. Undoubtedly the Samsung galaxy s23 ultra camera zoom will provide the complete experience, in all sincerity. This remarkable feature of the S23 Ultra's camera is its advanced zoom powers. The 10-megapixel telephoto lens allows you to zoom in up to 100 times without losing quality. And that is how it will enable you to capture even the tiniest details about your subject.
Furthermore this smartphone is a perfect "nightography" camera (An excellent night mode camera). There is no more hectic managing your all shoot in the daytime. With this combination of sensors and zooming capacities, the S23 Ultra can capture stunning photos with incredible detail, sharpness, and colour accuracy.
Moreover the S23 Ultra's camera will enable you to do things beyond human limits. Samsung has introduced advanced features of artificial intelligence technology. Now your smartphone's smart camera can automatically optimise your photos. It works based on the dark scene and lighting conditions. The best part is that the fantastic new S23 Ultra can capture all the beautiful moments with all its originality. Now forget worries about bright sunlight or a dark atmosphere.
Additionally the S23 Ultra's camera supports 8K video recording, which allows you to capture high-quality video footage with incredible detail and clarity. You can also use the camera's advanced stabilisation technology to capture smooth, shake-free footage even when you're on the move.
Battery Life
The Samsung S23 Ultra is becoming the ultimate pick for the tech lover. Its long battery life is gaining traction as a result of technological advancements. Our independent tests have confirmed what many have believed: this device's battery lasts considerably longer than its predecessor.
Samsung's battery life test shows it is 10x better than the top 10 smartphones. We also observed that its performance has also increased while browsing web pages. However we took this test through an automated script. This script stimulates scrolling continuously across multiple website pages. The performance result was good. Its long-life battery is giving tough competition to its flagship iPhone 14 Pro Max.
However the video streaming was slower than on the Pixel 7 Pro and the ever-impressive iPhone 14 Pro Max. Yet the Galaxy S23 needs more encouragement for innovation in this area. But the most amazing part is when the Galaxy S23 Ultra beats all its competitors. However it only comes next to the iPhone during the pro-level 3D gameplay test.
Processor
The powerful Snapdragon 8 Gen-2 powered Samsung Galaxy S series is here. This peak of Android technology shows off unbeaten performance. It is a smooth experience for even the most demanding smartphone buyer. Beyond expectations the S23 Ultra's processor customisation makes sure ideal efficiency and a smoother experience and prevention to get heat up.
Additionally in the gaming area, the scene is different from their competitors. The adventure of playing games enhances the higher standard. This phone handles long-term gaming easily, thanks to its intelligent heat dissipation mechanism.
So that there is no more worrying about your favourite games and applications running out of room—the S23 Ultra's massive 12 GB of RAM and 256 GB of internal storage. The photographer's fantasy 200MP camera also offers the choice of simple cloud storage.
Moreover numerous customisation options are available with One UI 5.1, based on Android 13. Customise your phone with widgets, photo editing, and wallpapers to suit your every whim.
Memory and Storage
Regarding memory and storage, the Samsung Galaxy S23 Ultra has hit the market in this case too. The tough decision about providing the best capacity makes them a challenging target for competitors. The Galaxy S23 Ultra has three storage capacities: 256GB, 512GB, and 1TB. The choice is yours. Although the 256GB version is enough for short-term use, if you intend to use the smartphone longer, consider getting the 512GB.
There is a piece of good news for the photographers. Samsung Galaxy S23 Ultra lets you record 8K video with a 200MP sensor. But higher-quality video capturing requires enough space, thanks to the Samsung Galaxy S23 Ultra, which provides extra storage. Now enjoy your social media activities.
Apart from being a photography lover, a social media influencer, or a passionate gamer, this phone is for you. The Galaxy S23 Ultra bombasts advanced software and hardware that allows it to handle even the most complex requirements with ease. With its cutting-edge technology, this smartphone is designed to offer optimal performance and efficiency, making it an ideal choice for tech-savvy users who demand the best. So if you are a video editor, a gamer, or someone whose smartphone usage involves multitasking, go with the 512GB variant. It can easily store your essential apps, software, games, and files without thinking of losing memory.
Other Features
There are so many other attractive features, but I would love to mention the S pen of the Samsung Galaxy S23 Ultra. It is such a sensation of innovation. Its sleek style, decent design, and intuitive functionality made it revolutionary. It will be a fantastic experience interacting with our mobile devices like Samsung S23 Ultra.
The experience of picking up the S pen is genuinely fascinating. The weight and balance in your hands will blow your mind. Undoubtedly it is perfect for making notes on your mobile device, drawing any sketch, or simply navigating through the phone; all is tremendously easy but captivating. This advanced feature allows you to create stunning artwork like a professional artist.
How can we forget to point out S Pen's remarkable abilities? The S pen can recognise the user's handwriting and convert all the written text into digital text. This ability of the S23 Ultra makes it the first choice for businesses and students. So that they can quickly note every point discussed in the meeting or the classroom and import it into the digital text file.
On an actual note the S Pen's most unique and impressive functionality is that it can control the phone from a distance. It only needs a flick of your wrist; you can scroll down and up the page, take photos, and answer phone calls with zero-touch. It sounds like a fairy's magic wand in your hand.
What You Will Enjoy in the Samsung Galaxy S23 Ultra
The Galaxy S series has genuinely the best for the next pick. This phone is full of amazing functionality and intelligence. There are a lot more benefits to using this smartphone. Such as:
Enhanced Productivity
With this latest technology you can enhance your productivity. As discussed above Samsung has used the most updated hardware and software for the S23 Ultra. So the phone can act as your powerhouse, and you can use your smartphone super creatively. The advanced features of the S23 ultra accelerate your efficiencies, such as its super speed, extra storage, smart camera, and ability to capture fantastic photos, record videos, and save data on your phone.
Additionally this smartphone makes multitasking possible. Whether you love gaming or go professionally into live streaming, this phone will not leave your side. However you can split the screen and access many tasks quickly.
Improved Entertainment Experience
With the S23 Ultra, you can get a better entertainment experience. As yet everything we have learned about this phone has proven that it is a fantastic device for excellent entertainment. It has great features like a top-quality display, a powerful speaker, and quick live-stream access, which exceeded expectations. This smartphone will allow you to watch live movies with an excellent array, play higher configuration games even with live streaming, enjoy being a social media influencer, or do any freelancing job; all is in your hands with excellence and ease.
Better Communication
The latest Samsung Galaxy S23 Ultra provides better engagement and communication. Its excellent feature allows you to stay connected. You can easily do the work—webinars, live sessions, advertising, and marketing. This is the best smartphone by Samsung Galaxy that can also keep you closer to your friends and family, as well as your fellow students and colleagues. Its remarkable features, like higher standard video calling, social media interaction, and messaging apps, keep you calm and connected and help you concentrate on the task.
Higher Efficiency and Convenience
This smartphone is designed to help users. That is why they took into consideration almost every aspect. Everything is designed to create easily, such as its voice assistant, which is extremely accurate and quick to function, its wireless charger, and swift access to frequently used apps. All its features help users save time and effort without experiencing any frustration from hanging mobile devices.
Increased Security
Your privacy and security are always a top priority for Samsung company. Their most recent device, the Galaxy S23 Ultra, emphasises privacy and security more. So it's time to get worry-free and feel more protective of your data and privacy. The Galaxy S23 Ultra has advanced security features like authentication, encryption, and biometrics. Samsung gives you more confidence knowing that their security will not break and their data will never be stolen. Now stay more secure and safe.
Samsung Galaxy S23 Ultra: Pros and Cons
Now we have reached out to discuss the Samsung Galaxy S23 Ultra's pros and cons. So here we go to mention the pros:
Pros Of The Samsung S23 Ultra
An improved battery life enables you to stay connected and productive for extended periods. The S23 Ultra's battery life is noticeably better than its predecessor's.
The S23 Ultra is armed with the latest Snapdragon chip, which provides a powerful and efficient performance that's hard to forget. You can efficiently multitask without any hassle. Now you can operate your phone smoothly without any lag or delay.
The S23 Ultra offers a more ergonomic user experience, minimising hand fatigue and enhancing usability. The improved design will make you feel more comfortable and more natural to hold.
– The Screen is Suitable for Use at Night
The S23 Ultra's screen is less curved and can be dimmed to shallow levels. That's how it becomes ideal for you at night without bothering your eyes or those nearby.
The S23 Ultra still offers noticeably improved image quality and stabilisation. Here you can take perfect pictures and record videos with the original audio. S23 Ultra's camera advancement is revolutionary.
The S23 Ultra enhanced the sound quality. Now Samsung's speaker phone and loudspeakers give immersive enjoyment. Undoubtedly, a perfect choice for music and media lovers.
The S23 Ultra has 256GB of storage as standard, twice as much as its predecessor. It gives users plenty of room to keep their documents, pictures, and videos without worrying about insufficient space.
Cons of the Samsung S23 Ultra
Indeed here are some of the cons of the Galaxy S23 Ultra:
– The base model still only has 8GB of RAM.
– Charging speeds have yet to see significant improvements.
– Haptics still lags behind some competitors.
– expensive if purchased at the total price
– Large sizes may only be comfortable for some users.
– Limited availability of specific colours or configurations
– No headphone jack
– It may receive software updates slower or more frequently than some other Android devices.
Conclusion
The Samsung Galaxy S23 Ultra is an excellent smartphone with many cool features and impressive performance. It's a big step forward for Samsung company, thanks to the Samsung S series's improvements in critical areas like the processor, audio quality, storage, design, and camera. Its battery timing has also increased almost 10 times, but don't forget to look after some indicating signs that your Samsung smartphone needs to change the charger port.
However If you're upgrading from an older phone, the S23 Ultra is a fantastic option. It even comes with the S Pen, which is unique and very useful. It might be a slight upgrade if you already have the S22 Ultra. Overall the S23 Ultra is a top-tier smartphone worth checking out.
If you want to get repair service for Samsung Galaxy S22 Ultra you can contact us in Brisbane, Sydney, Melbourne Or visit this website for Australia Mail In Repairs service today.