About Us
Learn more about the ScreenFixed team
Over 20,000 Happy Customers!
Screen Fixed launched in Brisbane, 2014 with a mission to re-invent consumer technology repairs making customer satisfaction our priority. Screen Fixed repair hundreds of devices every week with commitment to high quality service.
Thousands of highly satisfied customers
Since 2014, ScreenFixed has been delivering results while also exceeding expectations. What started as a mobile smartphone repair team, driving around Brisbane on a truck full of dreamers is now a brand with three repair shops, conveniently located to offer you the distinct exceptional smartphone repair service we have been known for. This approach made us a leading smartphone repair service team in Brisbane, Sydney and Melbourne preferred and referred by over 40,000 satisfied customers.
Today, we are on our journey to become a trusted, reliable, and leading provider of excellent smartphone repair services in all of Australia. And we are doing this by giving priority to the commitments and values we have lived up to through our years of making customers happy. With our years of experience and our thousands and thousands of satisfied customers, we are confident we will be there if we continue with focusing our services with you, the customer. .
About the ScreenFixed team
We're dedicated and passionate iPhone repair experts, ready to provide the highest quality, on demand mobile device repairing services, with guaranteed results and at the best prices on the market. Knowing that your time is precious, we have created this business with a single focus in mind: To make your life frustration-free! We are well aware that most people simply don't have the time needed to take their broken mobile device to the nearest certified repair shop.
Exactly what we are here to do!
Offering top notch, fast and affordable repair services for your precious iPhone, Google or Samsung mobile device, we will work anywhere you are! What does that mean? It simply means that all you have to do is call us and one of our certified technicians will be right there, at your home, office or even meet you at your local café and fix your broken device in less than 1 hour!
What can we fix?
With years of experience and sound technical expertise, we can fix almost ANY and ALL problems related to your iPhone, Google or Samsung device: Screens, batteries, charge ports, cameras, home buttons and a lot more! What is more, we only use genuine parts that come with a 2 year warranty of peace of mind. Benefit from our BRAND NEW Express Mail-In and Express Drop-In Repair Services! Are you in need of super speedy iPhone repair service?
Do you live outside Sydney or Brisbane? We've got you covered! Now you can either come and drop off your device or simply e-mail it to us and save yourself tons of money on traveling expenses.
Services Geared to your Satisfaction
Our hard work and sincere dedication to providing only the highest quality services at the best prices on the market is the best guarantee of our clients' satisfaction. With focus on your needs, we are ready to go above and beyond the norm to ensure your daily smartphone challenges are tackled with efficiency and ease!
Committed to improving the user experience, we stand by our motto:
If the customer isn't happy, then neither are we!
We continue to renew our promise of excellence to our customer.
Screen Fixed Latest Posts
Updates from the experts
Your Local Technicians
Your device is in safe hands with our highly skilled technicians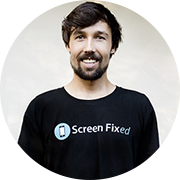 I dealt with Ben. He made it quick and easy straight from the initial phone call enquiry to the collection of the perfectly repaired phone. Reasonable price, excellent job done, happy customer.
★ ★ ★ ★ ★
Expert Technician
Brisbane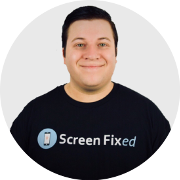 Alex and the team at Screen Fixed Brisbane are AMAZING. They have fixed a number of phone issues (batteries, screen, etc) for me, both personal use and business use, and they are always quick, professional and offer some of the most competitive prices out there. I cannot recommend the Screen Fixed team more, defiantly the best phone repair team in Brisbane!
★ ★ ★ ★ ★
Expert Technician
Brisbane
Thanks Elliot ??you rock !! Amazing price for the S9 screen repair wirh professional and friendly service. Highly recommend.
★ ★ ★ ★ ★
Expert Technician
Melbourne
Sunmi did a Great job fixing my iPhone 7 Plus Screen, works like a new one!
★ ★ ★ ★ ★
Expert Technician
Sydney
Quick repairs, quality work, professional service, and attentive staff. Daniel was wonderful to interface with and helped make the entire experience pleasant. Thanks again guys!
★ ★ ★ ★ ★
Expert Technician
Brisbane
Zack was very accommodating and very helpful. Highly recommended!! I had my screen fixed here and the experience was way better than going to an Apple store.
★ ★ ★ ★ ★
Expert Technician
Sydney
Absolutely perfect service. My lovely tech from Turkey was wonderful, incredibly kind and courteous, with perfect manners and service offered.
★ ★ ★ ★ ★
Expert Technician
Sydney
Our Locations
Walk In Repairs Now Available!
Melbourne CBD
Centreway Arcade, Shop 105/259/263 Collins St,Melbourne VIC 3000, Australia
03 9108 1598
Hours of Operations
Hours
Monday: 9:30am – 5:30pm
Tuesday: 9:30am – 5:30pm
Wednesday: 9:30am – 5:30pm
Thursday: 9:30am – 5:30pm
Friday: 9:30am – 5:30pm
Brisbane CBD
Level 1/303 Adelaide St
Brisbane City QLD 4000
+61 1300 193 331
Hours of Operations
Monday 9am – 5:00pm
Tuesday 9am – 5:00pm
Wednesday 9am – 5:00pm
Thursday 9am – 5:00pm
Friday 9am – 5:00pm
Saturday: Closed
Sydney CBD
Level 5
262 Pitt Street,
Sydney NSW 2000, Australia
+61 2 8316 2831
Hours of Operations
Trading Hours:
Monday 9:00am – 5:00pm
Tuesday 9:00am – 5:00pm
Wednesday 9:00am – 5:00pm
Thursday 9:00am – 5:00pm
Friday 9:00am – 5:00pm
Weekend: Closed