Melbourne CBD
CBD Repair Centre
Screen Fixed provides fast same-day mobile-phone / iPhone repairs in Melbourne CBD. If you're getting around Melbourne with a broken iPhone, Google Pixel, Samsung Galaxy or iPad screen, it's time to have it's Screen Fixed. Screen Fixed Melbourne is located in Centreway Arcade on Level 1. You can take the elevator or walk up one flight of stairs. Most screen repairs are completed while you wait in 1 hour or less. Screen Fixed back every repair with a 2 year warranty. Our services are offered for most of the common mobile manufacturers including but not limited to; iPhone, iPad, MacBook, Samsung, Google Pixel, Nokia, ASUS ROG / Zenphone, Huawei, Oppo, OnePlus, Xiaomi, LG, Motorola and more. Here at Screen Fixed Melbourne we carry out a wide range of services for the above models; Glass & LCD Screen Replacements, Battery Replacements, Rear Glass Replacements, Camera Lens Glass Replacements, Charger Port Replacements, Camera Module Replacement and more. If you can't find your service, feel free to call the friendly team at Screen Fixed Melbourne or drop-in and say hi. Bookings are recommended but not critical to receive a same-day repair.
Centreway Arcade, Shop 105/259/263 Collins St,Melbourne VIC 3000, Australia
03 9108 1598
Hours of Operations
Hours
Monday: 9:30am – 5:30pm
Tuesday: 9:30am – 5:30pm
Wednesday: 9:30am – 5:30pm
Thursday: 9:30am – 5:30pm
Friday: 9:30am – 5:30pm
Screen Repairs

Rear Glass Repairs

Camera Repairs

Battery Repairs

Charger Port Repairs

Water Damage

Camera Lens Repair

And More
Your Local Technicians
Your device is in safe hands with our highly skilled technicians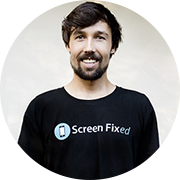 I dealt with Ben. He made it quick and easy straight from the initial phone call enquiry to the collection of the perfectly repaired phone. Reasonable price, excellent job done, happy customer.
★ ★ ★ ★ ★
Expert Technician
Brisbane
Thanks Elliot ??you rock !! Amazing price for the S9 screen repair wirh professional and friendly service. Highly recommend.
★ ★ ★ ★ ★
Expert Technician
Melbourne
Reviews from our Melbourne CBD Customers
Ensure your device is in good hands at the Melbourne CBD CBD Store
Screen Fixed Latest Posts
Updates from the experts
Our Locations
Walk In Repairs Now Available!
Melbourne CBD
Centreway Arcade, Shop 105/259/263 Collins St,Melbourne VIC 3000, Australia
03 9108 1598
Hours of Operations
Hours
Monday: 9:30am – 5:30pm
Tuesday: 9:30am – 5:30pm
Wednesday: 9:30am – 5:30pm
Thursday: 9:30am – 5:30pm
Friday: 9:30am – 5:30pm
Brisbane CBD
Level 1/303 Adelaide St
Brisbane City QLD 4000
+61 1300 193 331
Hours of Operations
Monday 9am – 5:00pm
Tuesday 9am – 5:00pm
Wednesday 9am – 5:00pm
Thursday 9am – 5:00pm
Friday 9am – 5:00pm
Saturday: Closed
Sydney CBD
Level 5
262 Pitt Street,
Sydney NSW 2000, Australia
+61 2 8316 2831
Hours of Operations
Trading Hours:
Monday 9:00am – 5:00pm
Tuesday 9:00am – 5:00pm
Wednesday 9:00am – 5:00pm
Thursday 9:00am – 5:00pm
Friday 9:00am – 5:00pm
Weekend: Closed