Android phones take the vast majority of the mobile phone market. There are hundreds of millions of people that use Android devices. And there are many developers of smartphones that specialize in developing Android devices.
That being said, it's true that Android devices can end up costing more than $1500. This goes for the latest models made by brand superpowers like Samsung. For example, their newest model Samsung Galaxy S21 Ultra is very expensive, indeed.
But this needn't concern you. There are some Android phones that you can purchase for a lot smaller fee. And this is where this review comes into play. You will learn here which are the cheapest, most affordable – yet highly functionable Android phones. The phones that you can find in Australia that have a cost of just $500 or below. So, if you're interested in learning more – then keep on reading.
What's a Good Android Phone For Around $500?
There are many answers to this question. In fact, the best way we can answer it is by giving you a list of what we believe are the top phones that will give you the best bang for your buck. So, below you will find our list of the top $500 or less Android phones in Australia.
Samsung Galaxy A52 5G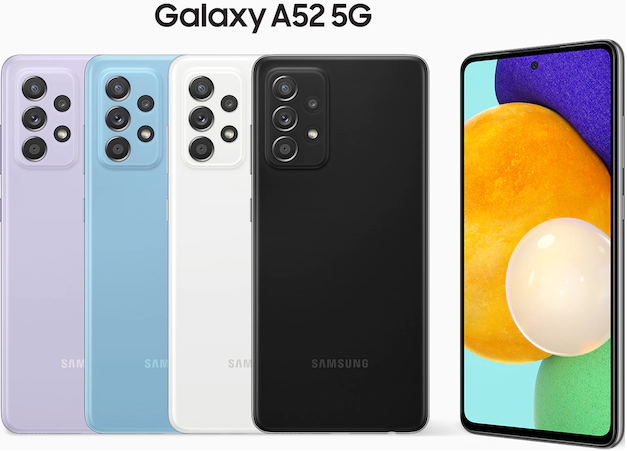 This is one of Samsung's most affordable phones – but it also has a very high value. It has a 64 MP Quad camera with a 32 MP front camera. The display is 6.5 inches with 2400 x 1080 pixels and 120 HZ refresh rate. It has default storage of 128 GB. And it has Qualcomm Snapdragon 750G processor and 6GB of RAM. It has a strong 4500 mAh battery. And, of course, it runs on Android 11 with the great Samsung One UI.
The Snapdragon processor is a powerful chip, at that. And the best part about this Android phone is that you can use it for a long time. You won't have to replace it as is the case with the majority of other phones on the market. The Samsung Galaxy A52 5G phone is a top-tier Android phone that you shouldn't miss out on. With a recommended retail price of about $499, it's a no-brainer that you should get this phone if you want to get the best bang for your buck.
Google Pixel 5A
The Google Pixel phones are also a brand powerhouse and many people around the world use them. This time, you can purchase the Google Pixel 5A phone for less than $500. It's not the best model that you can find, but it's definitely one of the more affordable.
The good news about this phone is that the battery is quite powerful. It can last more than 2 days if you use it reasonably before you'll need to charge it. The camera is excellent – one of the best that the market has to offer in the smartphone section. Lastly, coming in at less than $500, it's one of the most affordable high-quality Android phones.
That being said, the Google Pixel 5A phone is not without certain imperfections. For one, there are some known bugs that plague the camera and that can ruin your experience. The screen refresh rate is capped at 60Hz, which is unlike the higher-quality 120Hz phones that give you a better image.
The chip that this phone uses is Snapdragon 765G. The chip is the same one that was used in last year's model. While it's not bad per se, it's lacking when compared to what some of the rival phones have to offer. Its design also can be seen as dated, you can't upgrade the storage, nor can you do wireless charging. Lastly, you can only purchase this phone in Japan or in the USA. Of course, since it's on our list, you can also find it in Australia.
But its strong battery and its 6GB of RAM ensure that the phone has a healthy performance. It also ensures that you will be able to use this phone for a long time before it gives out. At less than $500, it's one of the best Android phones that you can get.
Motorola Edge (2021)
Motorola can be seen as having fallen off the top rankings on the smartphone market. And it's true – the company's phones are no way near Samsung's or Apples. However, this doesn't mean that Motorola isn't known to put out high-quality phones. And best of all, due to the fact that Motorola is not one of the top brands, their phones are cheaper.
The phone that we have for you today is the Motorola Edge. The fact is that the phone has a price that's slightly higher than $500. However, there are deals that you can find that will charge you less than $500 for it. And the Motorola Edge has a big list of strong suits.
For one, it has a very powerful battery that can last for days on end – it's a 5,000mAh battery. The camera is also quite powerful, with a 108MP main camera. The front camera is also quite good and it packs a 32MP punch, so to speak.
Moreover, the device's screen boasts a refresh rate of 140Hz. It's difficult to find a phone with a 144Hz refresh rate for such a low price. The processor is also powerful. It's a Snapdragon 778G. Lastly, the Motorola Edge 2021 has a lot of RAM and a pretty good-looking design. If you can find a deal for this phone, then it's a no-brainer that you should purchase it in one of the Phone stores in Australia.
OnePlus 8
The OnePlus 8 phone is also an excellent option if you're looking for a quality smartphone for under $500. Even though OnePlus 8 is somewhat old now, we should still note that it's still a powerful phone. After all, it was released as a flagship phone, ready to tackle anything that the industry had to throw at it. That being said, the phone still has powerful specs even in 2021.
Coming in are the strong suits. First of all, the design is ergonomic, which means that it's very comfortable to use. It also looks great. The display is excellent – even fantastic. The performance is outstanding and there are several highly useful features that you can look forward to.
But there are some disadvantages to using this phone, as well. We'd be amiss not to mention them. First off, the OnePlus 8 camera is not up to par with the industry standard. The storage is pretty limited and you can't upgrade it either. Lastly, we must mention that the speakers are of low quality. The sound that comes out can be deemed as harsh.
Regardless, the OnePlus 8 Android phone has a list of strengths that you shouldn't miss out on. It too has a price lower than $500. So, if you can find this phone in one of the retail stores in Australia, make sure to get it while it's still available.
Google Pixel 4A
The Google Pixel 4A phone is on its way out. With new models such as Pixel 6 coming out, it's obvious that Google will stop its support for the older models. But this is not to say that the Google Pixel 4A phone is bad, by any means. On the contrary, this phone can still hold its own even in 2021.
One of the best parts about the Google Pixel 4A, as is the case with all the Google Pixel phones, is the camera. It has a powerful camera, both front and back, even by 2021 standards. Google guarantees that it will provide support and software updates for this phone until 2023. This phone comes in black or baby blue colors. It has 128GB of storage.
The processor speed and RAM are on the slow side, though. It's just enough to keep things moving – but don't expect that you can open a variety of modern, demanding apps. The screen is passable, as well. So, the point here is that you should get this phone if you want a great deal. However, you should be mindful of the notion that the Google Pixel 4A will likely start to slow down soon. After all, it's a relatively old phone, and even Google itself will stop the support in 2023. Regardless, for less than $500, it's a great option to have if you want to save money.
OnePlus Nord 2
This is a phone that, shockingly, is not sold in the US for one reason or another. But the rest of the world, including Australia, can get it in retail stores. It sells for less than $500. And all its characteristics point to almost a flagship phone. Sure, it's stripped down of some of the most powerful flagship features. But the Nord 2 still holds its own even in 2021, and it covers all the basics. This means that you will likely have all your bases covered with the OnePlus Nord 2.
The screen of the devices is 6.43 inches. Its display rate is set at 90Hz. This is better than the 60Hz displays of other phones, but not as good as the 120Hz displays. OnePlus Nord 2 doesn't use the tried and tested Snapdragon processor. Instead, it uses the MediaTek Dimensity 1200-AI processor. This may be a red flag for some of you, but we assure you that there's no need for concern. The processor is more than well-equipped to deal with regular usage by the majority of users.
The battery is 4,500mAh strong. This means that you can use this phone for the entire day. There is no wireless charging option, which is only to be expected when you check the price tag. However, there's the fast wire charging. With this feature, once you connect this phone to a charger, it will charge from 0 to 100% in less than an hour.
The operating system of OnePlus Nord 2 is based on Android. This phone will be supported by the developer for a long time. Its camera is also outstanding. It has a 50MP rear camera and 32MP front camera. There's an 8MP ultrawide camera, as well, as well as a 2MP monochrome sensor. This serves for high image quality, even in dim lighting. Sure, the image quality is not up to par when it comes to Google Pixel phones. But it's still up there.
So, it really eludes us why the OnePlus Nord 2 phone is unavailable in the US. Regardless, you can purchase this phone at a very cheap price in stores in Australia. This goes for Brisbane, Sydney, Melbourne – and all over the country. The price of less than $500 for which you can purchase this phone is more than adequate – and you will be getting a high-quality phone that you'll use for a long time.
Best Android Phones Under $500 2021
So, by now you've learned a lot about the best phones 2021 for $500 or less. These phones are known for their incredible quality and their longevity. Despite the fact that some of these phones are on the older end, they are still quite adequate for use even in 2021. Remember, you can come and visit our Screen Fixed stores in Brisbane, Melbourne and Sydney to make a purchase.
We're even known to offer deals to our customers and make the phones even cheaper. These phones have great cameras, outstanding batteries and solid processors. They are loaded with RAM which will ensure speed and smooth usage. And the phones' native companies are known to offer support and updates for these phones for a long time to come. The Android platform is one of the most functional and most widely used operating systems to date.
And with these phones it's not at all difficult to see why this is the case. If you're after a cheap high-quality phone, then look no further than the phone models that we've shared above.