How to Fix a Frozen iPad?
iPads are really special tablet computers that can be used in many different ways. Some people use them as presentation tools while others use them to unleash their creativity or improve communication. This is a high-end tablet and only a small number of products like this can match its performance. However, they are still electronic devices, which mean that they are not immune to problems.
According to many users, freezing is a problem that creates most frustration in iPad users. In some cases, this freezing happens from time to time, but some users have to face an issue like this all the time. Generally speaking, an iPad can freeze or get stuck because of the use of multiple apps at once. The running and closed apps can create conflicts which make the device freeze. Of course, a problem like this can be associated with the work of the operating system too. In any case, there are a few things that people can try to fix a frozen iPad.
Reboot your iPad Touch Screen
Fortunately, in most cases, a reboot of the device will solve the problem. The reason why this option is so effective is simple – all the background apps that might be leading to this issue will be turned off and the same goes for the active apps. Keep in mind that you won't lose any data when rebooting your iPad. Locate the Sleep/Wake button on your iPad (typically at the top) as well as the Home button and hold them together for an instant reboot.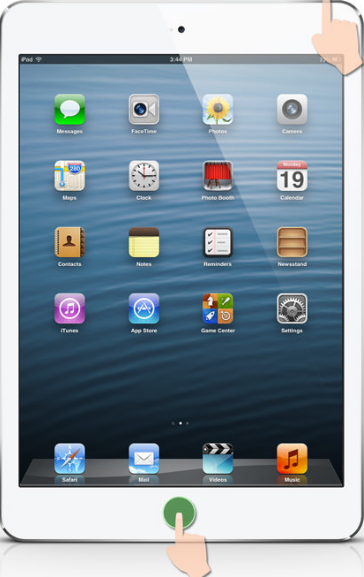 If you keep these two buttons pressed for just a few seconds, you will notice that your iPad is turned off. Wait for a few seconds and press the Sleep/Wake button again to turn it on. You will notice the Apple logo on the screen if everything is okay.
Removing the app that creates conflicts and freezes the iPad
Many users claim that these freezes on their iPad are caused only when they are using a specific application. In case you've followed the first step and you experience the same annoying freezing when you launch the same app or when you are using this app, consider removing this app. Press the icon and hold it for a second and you will notice an X in the right corner of the app. By pressing the X you will delete the app.
Remember that this doesn't mean that you should give up. You can install the app again right away. Even if you have purchased the app, it will be still available in the store and you won't have to pay again. The only thing that will be missing is the stored data. You can always perform a backup to save this information.
Still not working? Try Resetting your iPad OS
In case you are still experiencing problems and your iPad keeps freezing, it's a smart move to use the factory reset option. Just use the factory default setting and use iTunes synchronization to bring back your app. By resetting your iPad the memory and storage will be wiped and your device should be in the same condition as it was when you bought it.
The simplest way to reset your device is to go to iTunes, select your iPad and use the Restore option. It's a smart idea to back up your iPad at this point.
Unfortunately, there are situations when these tips won't help iPad users. If you find yourself in a situation like this, you should rely on true professional like Screen Fixed. We have the knowledge, experience, and tools to fix any iPad problems including software and hardware problems.