Would you like to find out more about iPhone backup corrupt or not compatible issues? Look no further because you've come to the right place. There is no doubt that it can be quite handy to restore iPhone from backup or restore iPhone from iTunes, but there are situations when this process is not going as smooth as some users would want to. Namely, the data can get corrupted and you will be wondering what to do. The good news is that not everything is lost in situations like this and there are a few things that users can do to resolve these issues.
To make things easier for you, we will provide a few tips that can help you fix iPhone backup corrupt or not compatible issues. Read carefully because most of these tips are actually step-by-step guides to iTunes restore and iTunes recovery.
Delete iTunes Backup And Utilize iTunes To Back Up Your Device One More Time
This might be a little bit confusing for some users, but the truth is that if you delete iTunes backup you can resolve this problem. So, how to delete iTunes backup in the first place? Before we go into details, let us say that rebuilding the backup can be a true lifesaver. If the data you've saved is corrupt or in case they are not compatible with your iPhone, there is something wrong with the data that can make even more damage. For many people, another backup means a solution.
Start by activating iTunes and use the Tune button located at the upper corner on the left side. Open Edit, Preference, and Devices and select the device that is problematic. Locate the corrupted or incompatible backup, select it and use the Delete Backup button. Once the procedure is finished, go to the homepage and choose Summary which is located in the Settings menu located on the left side. Next, follow the guide and use the Back Up Now option to make another backup.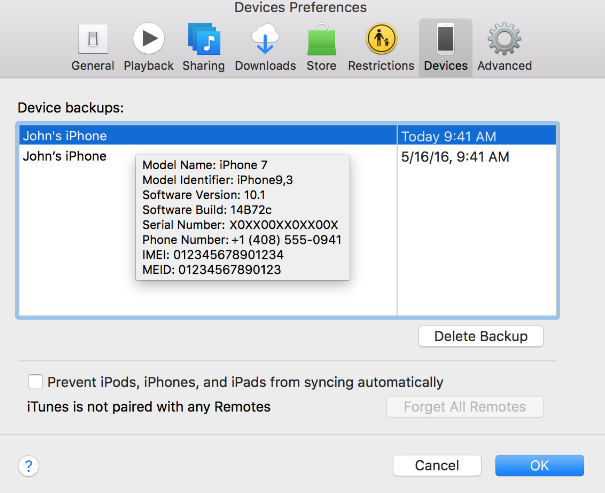 Preview (opens in a new window)
Create A New iTunes Backup Folder
There are cases when iPhone users are deleting system files by mistake. Situations like this lead to damage to the original backup folder. In case you are experiencing iPhone backup corrupt or not compatible problems, then you should try to create a brand new iTunes backup folder. Keep in mind that iTunes 12 or up probably won't support iOS 4 or lower. Those of you who have iOS 4 or lower should try iTunes 11 or lower. Remember no to update iTunes during this process. first of all, you should activate the files management app and locate the Mobile Sync folder. Change the name of this folder from Backup to Old Backup. Next, create a new iTunes backup folder. Finally, launch iTunes again and use the Back Up Now button. In this way, you will back up your iPhone again.
Restore iPhone From iTunes With The Help Of A Different Backup File
As we said before, the list of solutions related to this problem is long. This means that if one of these methods doesn't work, you can always try a new one. For example, many people are trying to restore iPhone from iTunes with the help of a different backup file. The truth is that your mobile device is loaded with more than one backup. Logically, if one of these backup files is not compatible or if it's corrupted, you can always try activating another one.
To start this procedure, you will have to activate iTunes via Macbook and locate Preferences from the main menu. In case you use a PC with Windows OS you should visit iTunes Edit and select Preferences. Furthermore, use the Devices menu and after that pick the device that you are trying to fix from the list of device backup history. Take some time and analyze the files. It is very likely that you will find at least one different backup file that can replace the one that is not accessible or corrupted. In case you find a file like this, you should revisit the homepage and use the Restore Backup button and choose the other backup file. Due to the fact that iTunes won't show the backup incompatible message, check whether your iPhone device has the latest iTunes version. If you miss this step, there's a chance that you won't be able to see the alternative backup file.
Update iOS
Another excellent solution for iTunes restore and iTunes recovery in situations when you are getting messages about iPhone backup corrupt or not compatible is to update iOS. In case you have a brand new iPhone and you get a message like this when you restore iPhone from iTunes backup, then you might be able to resolve this unpleasant situation by updating the operating system.
Just like in the case of Android devices, iOS is updated on a regular basis. With these updates, users can expect a smoother experience and new features. However, sometimes these updates can lead to issues and some of them are related to the backups. Some of you might be confused because buying a new iPhone should mean using a device with the latest iOS, but the truth is that some models are sold for a few months and the latest iOS can be released after the introduction of that model. In theory, it's possible to have an older model of iPhone with an updated iOS and to buy a new iPhone with an older operating system which leads to issues.
This is usually a situation where users are getting the incompatible message. The good thing is that you can update your device right away. Just go to iTunes and connect your iPhone. iTunes should send you a message that you should update your device. Use the Download and Update button and wait for the downloading and installation process to finish. If iTunes doesn't suggest an update, use the Check for Update button and complete the procedure manually.
Try To Fix The Errors Located In The Corrupt Backup File
Even after doing all these things, there's a chance that your iPhone still won't be able to manage backups in the right way. A simple update won't be able to resolve this issue, but a manual fix of the file might do the job. According to many experts, it's a good idea to use a specially designed software tool to resolve this problem. Typically, you need software, a USB cable, iTunes and the backup file. These software solutions are made in a way which helps users finish the task with a few clicks. There's a step-by-step guide which is quite simple. So, don't be afraid to use these software solutions even if you don't have experience and knowledge in this area. Obviously, the software you want to use must be reliable.
Use An iTunes Alternative
Did you know that there are many iTunes alternatives out there? We are talking about specially designed software tools that can help users back up their iPhone or iDevices in general. They act as content management tools with a user-friendly design. Thanks to these tools, you can create an iTunes backup even without access iTunes. You can also choose the content that you want on your iPhone or iPad and back it up on your computer or on iTunes library. It's obvious that you will have to do some research and find the solution that you find most attractive. If you want to finish this process you will have to follow the guide provided by the alternative software. Typically, these software solutions are straightforward and easy to understand.
As you can see taking care of an iTunes corrupt backup is not that difficult, but you will still need time and energy and in some cases money to complete this task. Time is a very valuable resource these days and not all of us have the luxury to spend free time on resolving issues like this.
In case you want to speed up things a little bit and make sure that the entire procedure is finished in the right way, you should get in touch with a professional repair service like Screen Fixed. As a professional repair service provider focused on iPhone and iPad, you can rest assured that Screen Fixed will help you at any time.
There's a team of professional, knowledgeable, trained and friendly technicians that have encountered many different situations related to iTunes recovery and iTunes restore which means that even iPhone corrupted files can be fixed. These technicians will try all the methods we've listed in this guide in order to recover deleted iTunes backup. In fact, they will try a few of their own methods that have proven to be effective in the past. There is no need to waste your time on problems like this when you have a professional on your side. Save some time and money by using a professional service for iPhone backup corrupt or not compatible errors.