iPhone DFU mode – Enter and Exit
The DFU mode for an iPhone stands for the Device Firmware Update. For most normal problems and cases, this most is not needed. The only times the mode is used is to do the following:
– Return the iPhone to the original OS that the phone had upon purchase
– to jailbreak or un jailbreak the phone (allows you to install software that Apple doesn't allow)
WARNING: This mode could damage the phone or break the phone's warranty.
See also: How to Fix Low Volume on an iPhone Ear Speaker
To get into the mode, do the following:
Connect the iPhone to a PC and synchronize with iTunes.
With the phone on, hold the power and the Home buttons for ONLY 10 seconds (hold them any longer and the Apple logo will appear signifying that you are in Recovery mode.
After 10 seconds, release the power button but continue holding the Home button for 5 seconds and then release. Again if a logo pops up, you've held it for too long and have been placed in Recovery mode.
If the iPhone screen is black and the PC says that the phone is still connected, then you are in DFU Mode.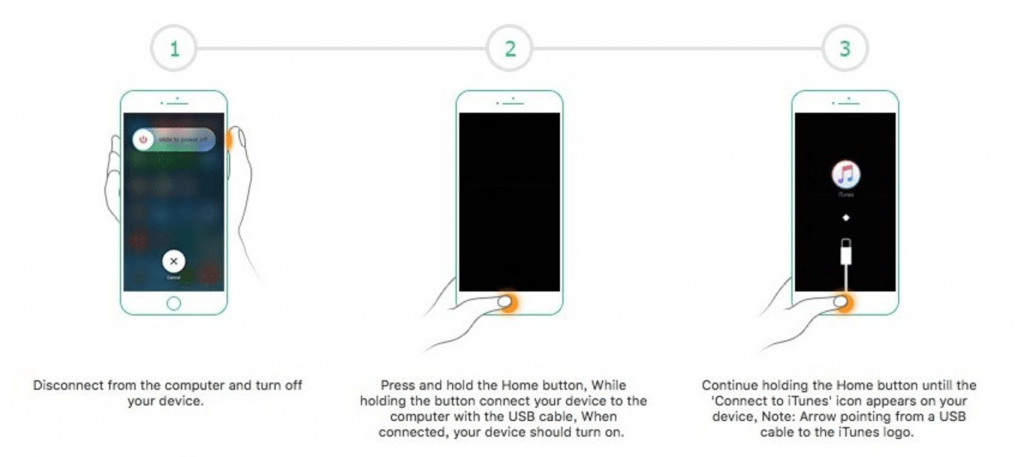 iPhone 7 DFU Mode
NOTE: For iPhones 7 or newer you must hold down the Volume Down button instead of the Home button.
Now that you are in DFU mode, you are set to do whatever is needed like return the phone to the original OS revision or jailbreak the phone.
How to exit DFU Mode on iPhone or iPad
To exit this mode, simply hold the power button until the 'power off slider' pops up and then turn off the phone. If this doesn't work you can download a program call recBoot. recBoot makes getting in and out of DFU mode as simple as clicking a button.
---
How To Fix:
How to Clean my iPhone Charge Port
How to Repair your Google Pixel 2 Screen