So, you want to recover deleted text messages on iPhone, but you are not sure whether something like this is possible? Believe it or not, there are dozens of people around the globe that are wondering the same thing. When people receive a text message on their iPhone, they read it and most of them automatically delete that message once they are done. This is not a very smart practice because these text messages don't take up much of your iPhone's storage space. Of course, some of you might receive dozens of text messages every week and they have problems finding important messages later if they don't delete the ones that are considered unimportant. 
But, there are situations when people want to get back their deleted text messages. This is when they are heading to the Internet looking for an answer to one simple question – how to recover deleted text messages on iPhone. 
Is It Possible To Retrieve Deleted Text Messages On iPhone?
Let's put first things first. The good thing is that it is possible to retrieve deleted text messages on iPhone. What's even better is that you can do this regardless of the iPhone model you have. Both old and new iPhone have options that allow users to get back deleted messages. In addition, you should know that there's more than one way to do this and we will reveal these methods later in this guide. Some of these methods require a computer while others don't.
What's The Procedure To Get Back Deleted Text Messages On My iPhone For Free?
As previously mentioned, there are a few different methods that users can use to get back deleted text messages on their iPhone and the best part is that they are free. The methods we will highlight in this guide, at least most of them, are completely free. So, the only thing you have to worry about is time. Although they are free, these methods are easy to use and you can retrieve those messages in no time.
What Should I Do To Retrieve Deleted Text Messages From My Android Without A Computer?
It is possible to own an iPhone and an Android device at the same time. So, while you are reading this article you might be wondering how to do the same on your Android device even if you don't want to use your computer. One of these methods is to use Google Drive while the other popular method is to use a specially designed app recovery.
Where's The Place Where I Can Find My Deleted Text Messages On iPhone?
Unless you take a special procedure to permanently delete text messages on your iPhone device, these messages will be hidden on your phone. This means that you won't see them, but they will be there waiting for you in case you want to retrieve them. In addition, iPhone uses cloud technology to store these messages and a few other methods to keep them safe even if you have deleted them. By analyzing the different methods used for this kind of recovery you will find out not just where these deleted text messages are, but also how to get them back.
Get Back Deleted Texts From An iCloud Backup
To make this method work, you have to be sure that you've created a backup with the help of iCloud before you use it. If the backup for text messages via iCloud is enabled then you can get back your deleted texts. This is a method that doesn't require the use of a computer. But, what's important to understand is that by using this approach you will get back your iPhone to its initial state. To put it simply, all the settings and content will be deleted. After that, existing files will be replaced by the files from iCloud.
Start by launching Settings on your iPhone. Visit General and find Reset. Choose Erase All Content and Settings.

Type your iPhone passcode (if it's enabled). After that, select Erase iPhone twice to activate the procedure.

The next step is to choose Restore from iCloud Backup. You will have to enter your Apple ID and password at this point.

Select Choose Backup and find a backup date that suits you.

Finally, wait for a few minutes for this procedure to be finished.
This is a very simple recovery method that guarantees positive results.
Get Back Deleted Text Messages From A Backup Without Overwriting Your iPhone
The method we've shared before is efficient, but it will overwrite some of the data found on your iPhone. In case you want to retrieve your deleted texts, but you want to keep your data safe, there's another way to achieve this goal. There are a few applications out there, including CopyTrans Backup Extractor that can help you. Here's how these apps help iPhone users looking for deleted messages.
For starters, download and install the app. 

Launch the application. The app itself will start looking for iPhone backups found on the computer. Select the backup that matches your needs.

Next, select Messages and go to Extract.

Lastly, choose a destination folder. Every message you've deleted (stored via iPhone backup) will become available in the destination folder.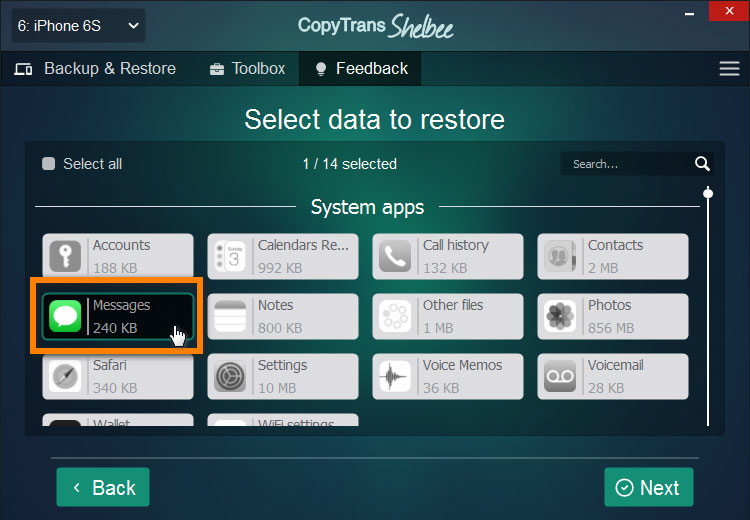 Keep in mind that some of these applications might be paid apps. But, the main point is that you will restore deleted messages without changing anything else on your device.
Get Back Texts From An iTunes Backup
That's right – iTunes is more than a program that can help you listen to great music. But, just like in the case of iCloud, you have to turn on the backup feature that includes the text messages on iTunes in order to use this method. It's worth mentioning that iTunes backs up and stores both iMessages and text messages (SMS). The procedure is very simple and even a complete beginner can finish it without any problems.
Obviously, you need the latest version of iTunes on your computer.

After that, establish a connection between your computer and your iPhone. 

Wait for a few seconds for iTunes to recognize the connection and select the device button.

Locate the Backup feature and select Restore from Backup.

Choose an iPhone backup that can help you find the messages that you are searching for and select Restore. Obviously, you should choose a date before you've deleted those text messages.

Wait for the process to finish. If everything is done in the right way, you should be able to find your deleted text messages and read them.

There's a downside to this method though. If you want to restore iMessage conversations and SMS in this way, you should know that every media track that exists on your iPhone will be removed. Any content or settings that you've changed or added after the backup file that you are trying to use will be lost too.
Recover Deleted Texts With The Help Of A Third-Party App
In case using an old backup to get back deleted messages doesn't work for you, this doesn't mean that you should forget about those messages. In most cases, the messages you've deleted might be invisible at the moment, but they are somewhere on the phone's memory. With the help of modern third-party apps, you might be able to resolve this issue. 
After a brief search, these apps can tell you whether you can recover these messages or not. Many of these applications are completely free to use, but there are also paid apps that promise more features. It's up to you to decide what kind of third-party app for iPhone you will use for this purpose. Now let's see how they usually work.
Once again, the first step in this process is to download and install the app.

Open the application and get familiar with the interface.

In case you don't have a backup, establish a connection between your iPhone and computer with the help of a USB cable. Select Recover from iOS device and choose Start Scan. Choose the text messages you want to get back and select Recover.

In case you have an iPhone backup, you should select Recover from iTunes Backup File and go to the iTunes backup file followed by Start Scan. If everything goes as planned, you should be able to select the texts that you want to bring back to life. Finish by selecting the Recover button.

If you have created an iPhone backup with the help of iCloud, you must select Recover from iCloud Backup file. In this case, you should type the Apple ID and password and log in iCloud. Select Messages, click Recover and wait for a few minutes.
Text messages might not be as popular as before, but the truth is that millions of them are sent every day. With the methods we've described in this guide, you should be able to recover deleted text messages on iPhone. 
People Also Like