Are you interested in upgrading your old iPhone or want to move to iPhone from any other brand? iPhone 14 Pro Max is the best choice for you. Its 6.7-inch large display screen,48 MP main camera, long-lasting battery, ceramic shields, always-on display, crash detection, and water resistance features iPhone 14 Pro Max outstands in Apple iPhone 14 Pro Series.
In this article we will discuss the features, specifications, and price of the Apple iPhone 14 Pro Max, paying particular attention to those new features of other phones of the Apple family. We will also discuss the pros and cons of the iPhone 14 Pro Max.
Apple iPhone 14 Pro Max Specifications:
Body
Ceramic shield front,

textured matt glass back and stainless steel body.

Weight: 240 grams

Dimensions:160.7 x 77.6 x 7.9 mm

Colors: Space black, Silver, Gold and Deep Purple.

SIM: single/ Dual Nano or eSIM support

Display

Size : 6.7 inches

Type: super retina XDR OLED , 120 Hz

Dynamic island

Always_on HDR Display

Wide colour p3

Operating System/ Software
iOS 16
CPU
Apple A16 Bionic ( 5mm)
Battery

4323mAh

MagSafe Fast Wireless Charging

USB Power Delivery : 2.0

Fast charging with 19 Hours Battery Life (as tested)

Camera

Back camera :48MP

Front camera: 12MP

Camera Features: Dual LED dual-tone Flash, HRD,(photo/panorama)

Ultra Wide Angle: 12 MP

Safety

Crash Detection

Emergency SOS

Splash, Water and dust resistance
Rated IP 68(Maximum depth 6 metres for upto 30 minutes under IEC Standard 60529
Misc

Face ID Sensors

Built in Accessibility System

Built in Apps

Apple pay: Visa, Master Card,AMEX certified.

Ultra Wide Bans support
The Apple iPhone 14 Pro Max was launched with the following specifications:
Price
Apple iPhone 14 Pro Max was announced on 7th September 2022 and was launched on 16th September 2022 in the market. The Apple iPhone 14 Pro Max is the most expensive, starting from $1899. However mobile phone price rates update daily, and the one listed above might be outdated. So whenever you purchase, review the specifications carefully to confirm the hardware match, price, and item check. Also check the warranty card for your country. Be aware of extra charges like customer fees, sales tax, shipping price, etc.
iPhone 14 Pro Max Features
A
lways-on Displays
The iPhone 14 Pro Max looks like the other phones of the Apple family. One of the prominent features is Always on Display (AOD). When AOD is activated, the lock screen shows helpful details like weather, time, date, and data. Android Devices have already introduced the AOD feature, but in most Android phones, only time illuminate while the rest of the screen remains dark.
Apple came with an advanced feature of AOD to keep the entire screen illuminated with much lower brightness. The AOD feature makes the phone far easier and speedy to see important notifications, check the time, and know the weather. AOD operates with a refresh rate of 1Hz with a new low-power mode. Additionally, it uses multiple coprocessors to refresh the display using minimal power. Interestingly there are some situations when Always-on Display turns off. It happens when:
– The phone is lying face down
– Sleep focus is on
– Low power mode is on
– The iPhone is connected to CarPlay
– You don't use your iPhone for a while
– The iPhone is in your bag or pocket
– You are using the camera continuously
– You set up an alarm
Moreover when your iPhone detects that you moved away from the phone to a paired Apple Watch, the AOD turns off, and when you turn off the Apple Watch, the AOD turns on. Always-on Display is enabled in your phone by default, but you can turn it off from settings if you don't want to use this feature.
Crash Detection
Apple introduces crash DetectionThe Crash detection feature with the launch of the iPhone 14 and new models of the Apple Watch to detect severe car crashes .this feature is available in the iPhone 14 series, Apple Watch Series 8, Watch SE2, and Apple Watch Ultra. Whenever a severe crash is detected, your phone will detect this, sound an alarm and display an alert on the screen for 10 seconds. If you are responsive, you can call emergency services or dismiss the alert if you don't need it. Otherwise if you are not responsive, your phone or Apple Watch automatically calls the emergency services after 20 seconds.
Playing smartly, your phone sends a message to share your location to the contacts you have added in emergency contacts. If you have set up your medical ID, your phone displays the medical ID slider for emergency responders' access. However this feature comes with some shortcomings too. Let's discuss the following:
-The crash Detection Feature cannot detect all types of crashes.
-If there is an emergency and there are a lot of emergency numbers in your region, a single number will be dialed automatically.
-Sometimes manual input is required once an emergency call connects, so the result may not be fruitful.
-The Location sharing facility may not be available in some countries or regions.
Emergency SOS
Emergency SOS via SatelliteApple always keeps your safety first. Another new feature that Apple added to your iPhone 14 Pro Max is Emergency SOS via satellite, which allows the iPhone to connect to the satellite directly in case of emergency. When you are hiking or camping in the countryside, Satellite connectivity helps you share your location with your family or friends for communication purposes when WiFi or cellular connection is unavailable.
This feature works in open areas with few trees and allows you to send text messages via satellite.
Ceramic Shield Protection
The ceramic shield is a protection for the screen of your expensive phone by Apple, exclusively available in Apple iPhone 12, iPhone 13, and iPhone 14 series, specifically in Apple iPhone 14 Pro Max. Apple claims it is an alternative to the Gorilla Glass used on many Android phones like the Samsung Galaxy S21 range. Ceramic Shield is the best built-in protection for the screen of your Smartphone. This shield includes Nano-Ceramic crystals ( harder than any other glass )and a dual ion exchange process. Both materials protect the screen from scratches, nicks, and shattering in case of damage, making your iPhone 14 Pro Max the most durable phone in the Apple iPhone Pro series.
No doubt ceramic shield protection is the most desired feature of the iPhone 14 Pro Max. But still it is glass, and if your phone is prone to accidents with extreme circumstances, it is better to use your iPhone 14 pro-Max with a good case or a back cover.
Biggest Camera
For the first time, Apple has gone beyond 12 megapixels sensors to 48 megapixels in iPhone 14 Pro Max. In this model, the pixel binning technique takes high-quality pictures in low light. In difficult situations when other expensive phones fail, the iPhone14 Pro Max proves the phone for capturing in low-light places. Not only in Day time but pictures taken at night are also excellent. The 12MP ultra-wide camera of your 14 Pro Max is more versatile at night.
Additionally Apple has introduced a 2X zoom option in iPhone 14 Pro Max, which utilizes 12 megapixels from 48 megapixels and crops in to leave behind the competitors like Samsung Galaxy S22 Ultra. The 4K HRD support in the Cinematic Mode lets you shoot as per film industry standards. The "New Action Mode" helps you to take stable and smooth handheld videos in shaky shots.
Splash, Water, and Dust Resistance
Apple iPhone 14 Pro Max is IP68 certified under IEC standard 60529. In the IP68 number, the number in IP68 6 refers to dust resistance means the iPhone 14 Pro Max can hold up to dirt, dust, and other particulates. IP6x is the highest dust resistance rating that exists. The number 8 in IP68 refers to the water resistance feature. The iPhone 14 Pro Max is water resistant and can float in water for up to half an hour to a maximum depth of 6 meters /19.7 feet.
However Apple's Warranty does not currently cover liquid damage except if you have Apple Care Protection (an additional purchase available when you first buy your iPhone). So if you are likely to go fishing in a lake or swim deeper than six meters, you should keep your expensive iPhone somewhere dry.
Bigger screen with Larger Battery Apple iPhone 14 Pro Max is the best phone from the Apple iPhone family. Its 6.7-inch large screen, super Retina XDR display, and rounded corners follow a beautiful curved design. Another distinguishing feature of the iPhone Pro Max is its 4,352 mAh battery, the biggest of the iPhone series. The battery lasts 19 hours with up to 29 hours of video playback and hits around 7 hours of screen time, including a MagSafe charger for faster wireless charging.
Pros and Cons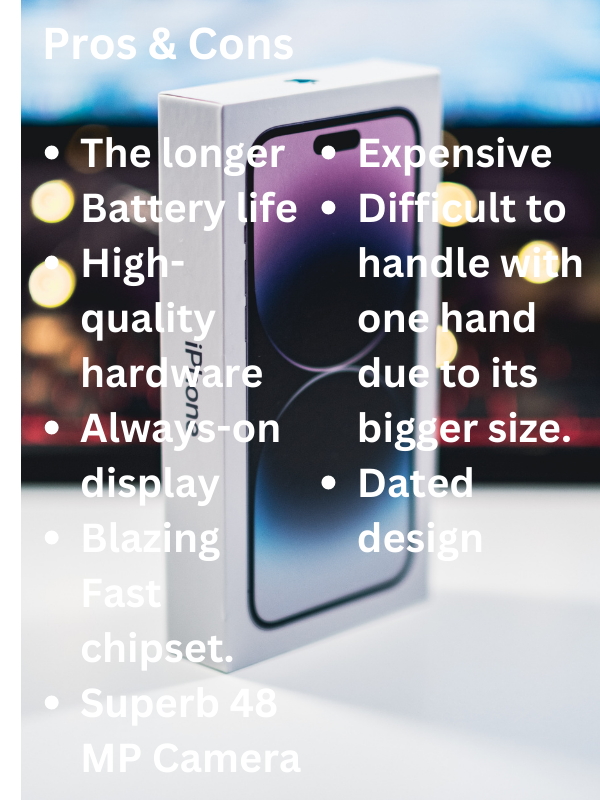 Pros

– The longer Battery life is better than all iPhones till now.

– Always-on display is much better than Android phones.

– A Clever and Innovative Dynamic Island.
– Superb 48 MP Camera

Cons

– Expensive
– Difficult to handle with one hand due to its bigger size.
– Dated design
Final Thoughts
The Apple iPhone 14 Pro Max is the best iPhone yet, with outstanding performance, a bright display, long-lasting battery life, a sharp camera, an always-on display, and a list of valuable features that outperform the older phones of the Apple family.