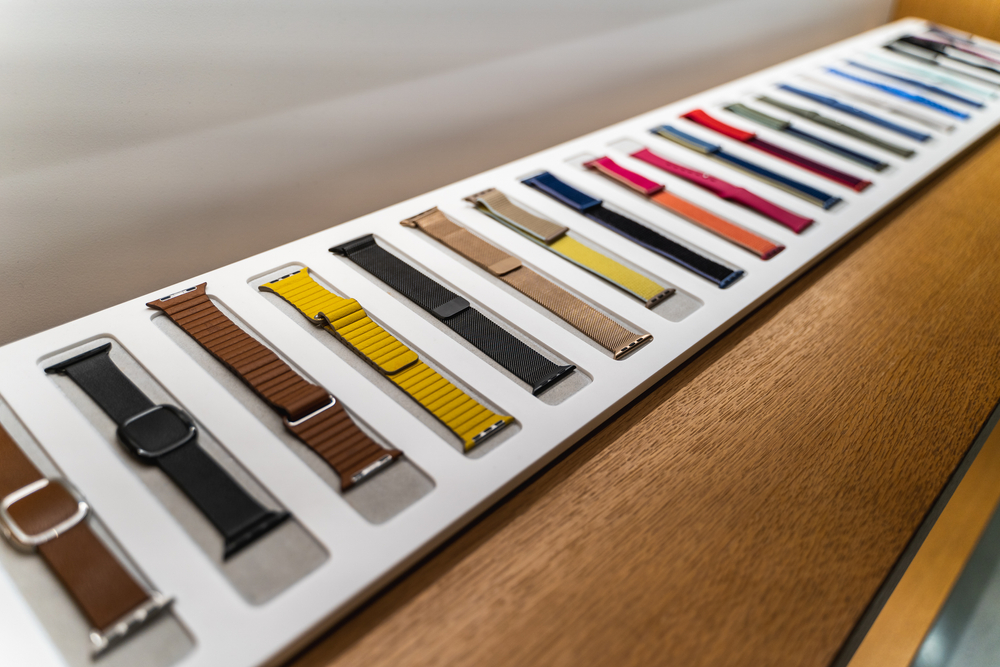 When the first Apple Watch appeared on the market back in 2015, many people were skeptical. They didn't know whether these smartwatches are actually useful and worth the money. Today, no one is questioning the usefulness of these devices.
Apple Watch is one of the most successful lines of smartwatches. As the name suggests, they are produced by Apple Inc. Fitness tracking is just one of the things that make these devices interesting. Surely, people can choose from many other smartwatches, but if you own an iPhone, and you are looking for seamless integration – an Apple Watch is your best bet.
Another thing that makes these smartwatches attractive is their design and the ability to alter that design without buying a completely new device. Those who have experience with Apple Watch know that we are talking about Apple Watch bands. Speaking from experience, the team at Screen Fixed would make the following suggestion to significantly reduce the chance breaking your apple watch – get a screen protector! We service and repair to many broken Apple Watches!
Choosing the best Apple Watch bands
Every Apple Watch (and there are five generations of this device now) comes with a band. The good news is that you don't have to use your smart device with that band only. You can easily change this band with other types.
Every year, Apple releases a few different bands for their collection of watches. On top of that, there are third party bands that users can attach to their watches too. As we said before, changing them is super easy and so is ordering. Before we go into details and highlight the best Apple Watch bands, we should mention a couple of things.
First of all, before buying a band, you have to take the size of the watch's face into account – is it 38 mm, 42 mm, 40 mm, or 44 mm? Next, you have to decide on the specific style of the band that you want to purchase. There are a few styles available to users including sport bands, classic buckles (leather straps), modern buckles (leather straps), Milanese loop, leather loop, sport loop, and even a link bracelet.
A list of best Apple Watch bands
Now that you are familiar with the basics of selecting high-quality Apple Watch Bands, it's time to reveal some of the best among them. We have selected a few of these bands that belong to different categories.
Apple Watch Hermes
If you are looking for an Apple Watch band that will make you stand out, then you can't go wrong with the Apple Watch Hermes band. With the help of this accessory made of leather, you will look more elegant and sophisticated. The good thing is that you can use Hermes for every Apple Watch regardless of its generation.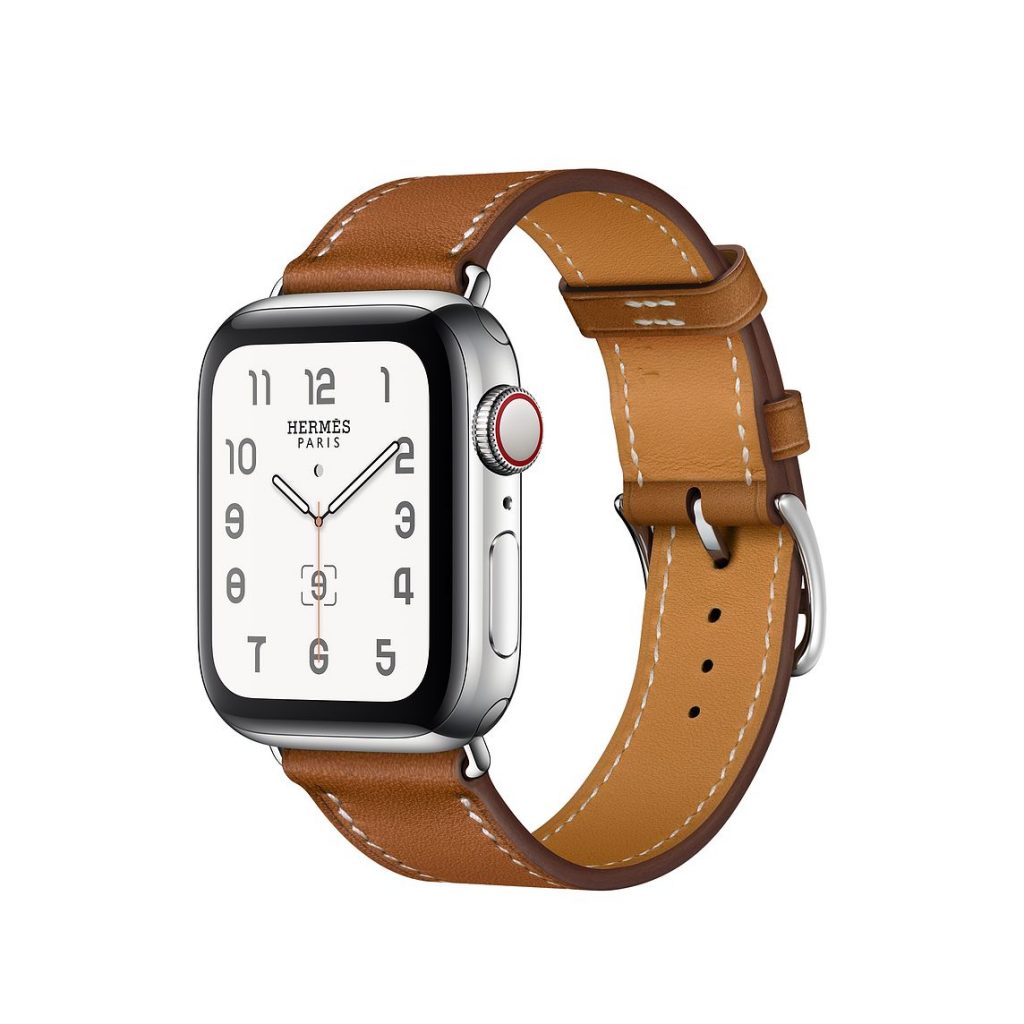 Hermes is suitable for wrist size between 130 and 155 millimeters. It was made by artisans in France (handmade). The only downside is that this smartwatch band is a little bit expensive. However, you can rest assured that it's a durable item that will last for a long time.
Marge Plus
As we said before, not all of the best Apple Watch bands are made by Apple. One of the best examples of a high-quality, attractive item like this is Marge Plus. Keep in mind that this band will not work for those who have a watch that belongs to the fifth generation – it must be a smartwatch that belongs to the first, second, third, or fourth generation. At the same time, this is one of the cheapest items of this kind made of leather. So, if you want to save money and still look elegant, you should take Marge Plus into account.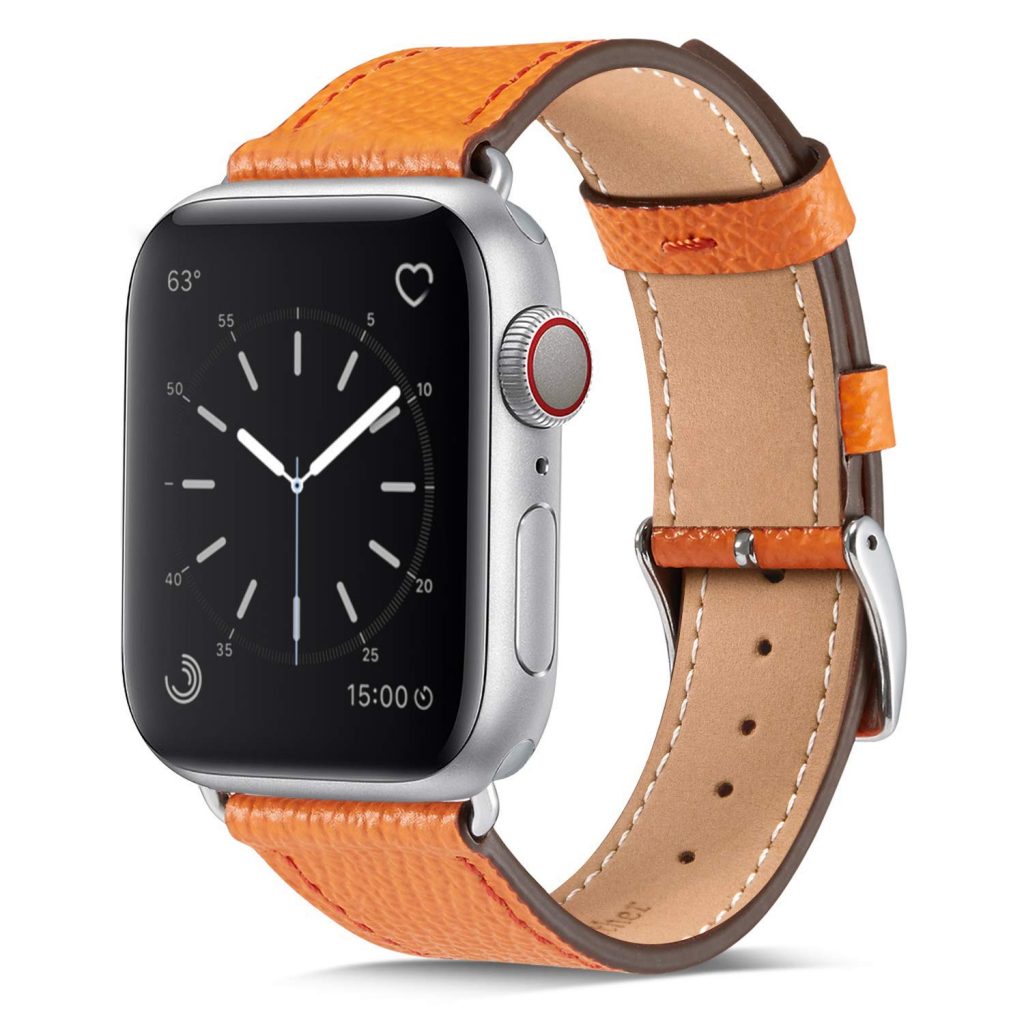 Judging by its look, this band was made for people who are looking for an elegant and minimalist appearance of their watch. It's ideal for office workers. It's also good that the wrist size goes from 140 to 180 mm.
Sport Loop Band
The name says it all! The Sport Loop Band was designed and created with the needs of fitness enthusiasts in mind. That's why it's made from woven nylon. This is a band that allows Apple Watch users to avoid unnecessary sweating and moisture retention in this area. It's also a very durable band. The specific closure present in this band allows users to adjust the size quickly.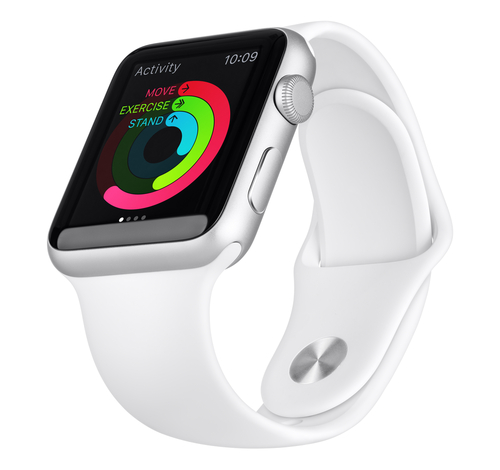 The Sport Loop Band comes at a more than reasonable price. We should also mention that this interesting sport band is available in over ten colors including Khaki, Neon Pink, Vitamin C, and Camel. They are all available in 44 mm and 40 mm size options.
Mintapple Milanese
It turns out that the Milanese-style bands for Apple Watch are quite popular and there's more than one reason for that. Mintapple Milanese is one of the best Apple Watch bands of this kind. Users of Apple Watch of any kind can use this interesting item. This time, the product is made from coated stainless steel which means long-lasting quality. That's why the price is a little bit higher compared to many other Apple Watch bands.
When it comes to wrist size – anyone with a wrist between 130 and 180 millimeters can count on the Mintapple Milanese band. All in all, this is a band that looks beautiful and provides a smooth feel to its users.
Nike Sport Band
Nike is another manufacturer that has acknowledged the popularity of smartwatches. That's why they have decided to come up with a branded Apple Watch band. This product is based on fluoroelastomer, a very flexible and durable material that's perfect for those involved in sporting activities. Additionally, there's a pin and tuck enclosure that guarantees safety.
Those of you interested in the colors of this band will be glad to hear that there are eight different colors (combos of colors) available including Pure Platinum with Black, Royal Pulse with Black, and Midnight Turquoise with Aurora Grey. The best part is that the Nike Sport Band is not very expensive, although we can't say that it's cheap either.
UAG Civilian Silicone
Investing in one of the best Apple Watch bands – UAG Civilian Silicone – is a good idea even if you have an older Apple Watch. The reason is simple, this band works on all Apple Watches (from 1 to 5). As the name of this model suggests, it's made of silicone. Many experts recommend using this material for smartwatch bands because it's quite hygienic and durable.
The UAG Civilian Silicone band is a good solution for people who are involved in outdoor activities like hiking or walking. This band is both sweat-proof and waterproof. We should also mention that this is an inexpensive product. Yet, you should think twice before purchasing this band because it comes with a specific design that we definitely cannot describe as "elegant".
Hercules – Ultra Strong
Here's another example of an excellent Apple Watch band that's not made by Apple. We are talking about an interesting product made of stainless steel. One might think that a band that looks like this and it's made of a long-lasting material is expensive, but Bands Apple Watch Hercules is cheap. Compared to Apple's original bands, this band has an extremely low price.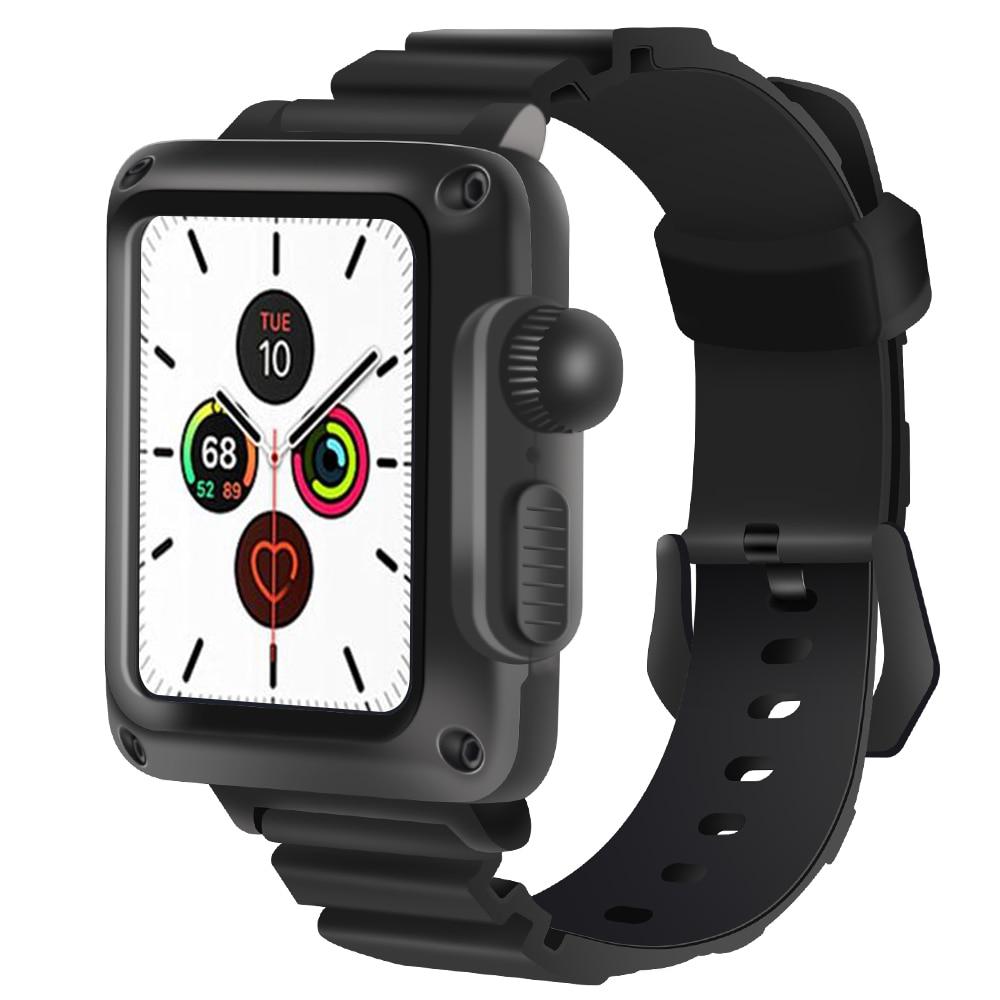 But, this low price leads us to a few downsides. For instance, you should not expect this band to last for a very long period. Buy it only if you are planning on wearing for a couple of seasons or so. You should also wait to get this product online because it's not available in many physical stores. However, if you are looking for an inexpensive modification of your favorite Apple Watch, you might want to consider using this item.
Apple Modern Buckle
There are Apple Watch users who are attracted to these watches simply because they look beautiful. There's no doubt that with the right band, you can make them look even more attractive and Apple Modern Buckle is one of the best Apple Watch bands that can help you with that. Made of premium-quality leather, they add a touch of sophistication to any outfit.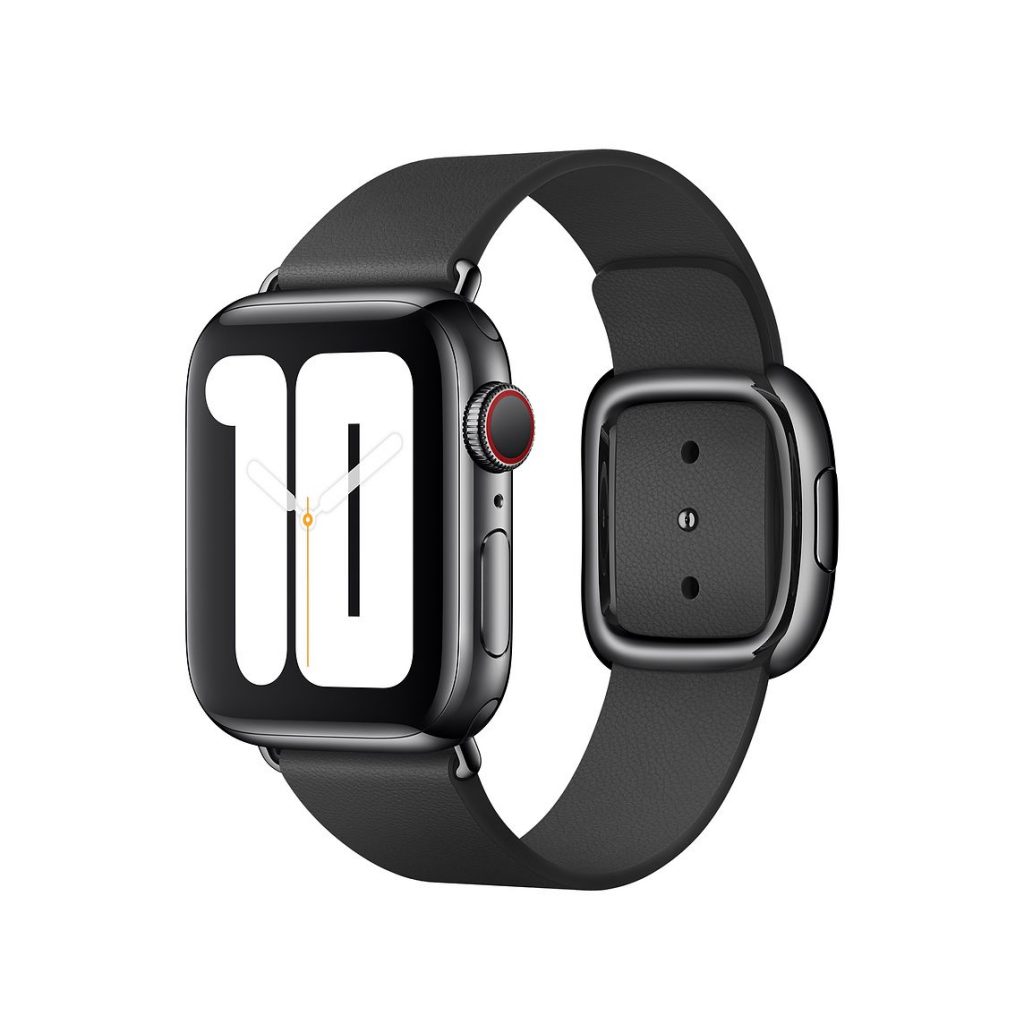 Some of you might find them expensive, but it's the quality and looks that you are paying for. The buckle comes in a large rectangular form that matches Apple Watch. This is a product with a non-magnetic design. There's one disadvantage though and that's the limit selection of colors.
Ullu Skinny Strap
Who says that leather Apple Watch bands have to be extremely expensive? Ullu Skinny Strap is a band that will cost you less compared to original Apple Watch bands, but it will still make your Apple Watch look great. It's actually made of unique Italian leather.
What's great is that you can choose from a wide range of colors. In other words, making your Apple Watch match your clothes has never been easier. In case you are ready to refresh your smartwatch, simply pick the right size and color and order Ullu Skinny Strap. Keep in mind that these products are usually shipped from Italy, so you might have to wait for a while before you get them.