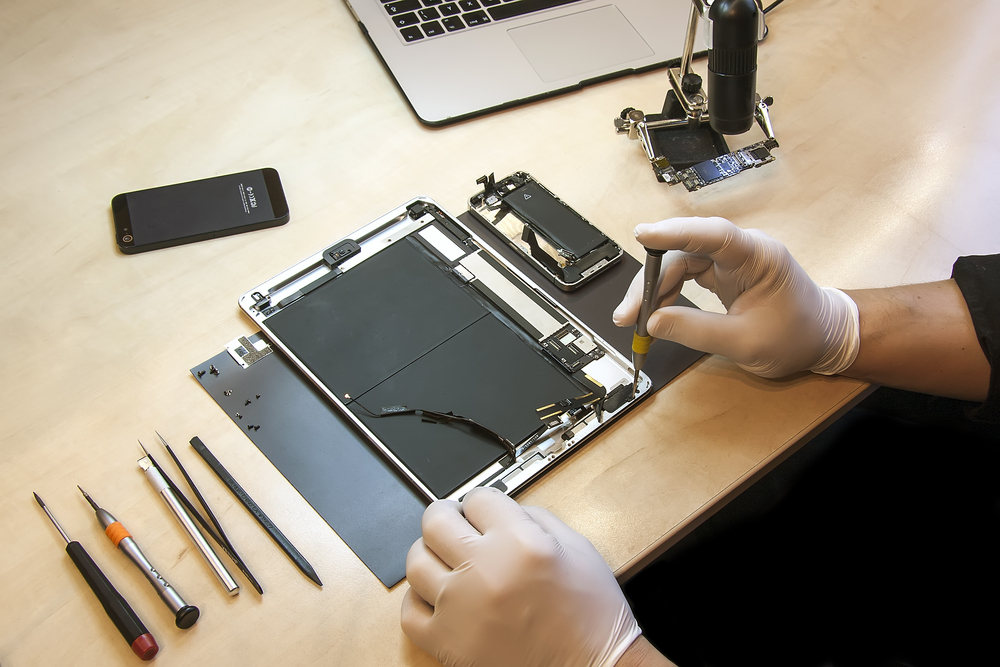 Screen Fixed is a better place to repair your iPad Screen.
Are you looking for fast iPad 7 screen repairs? Look no further, you've come to the right place! When the iPad 7 was released in September 2019, it became one of the best entry level Apple tablets released. This is a relatively new tablet, but some users have already managed to break their iPad 7 screen.
This is not a big surprise because the screen is relatively big (10.2 inches) and even though it comes with protection (Gorilla Glass), it's impossible to protect the screen from a direct drop on a hard surface. So, it takes small negligence, just a second of distraction, for a device like this to be dropped and a predicament like this to occur. But, the good thing is that a situation like this doesn't mean that you have to purchase a new iPad 7. The best solution is to call a professional repair service provider to resolve this issue. Of course, to get the best results, you have to get in touch with true professionals like us. We provide 1 hour iPad 7 broken screen repairs in Melbourne, Sydney, and Brisbane.
Glass Cracked on iPad 7
The seventh generation of iPad comes with an IPS LCD capacitive touchscreen in 16 million colors. As we said before, this is a 10.2-inch tablet where the screen covers 74.4% of the body. With a resolution of 1620 x 2160 pixels and a 4:3 ratio (that's around 264 pixels per inch density), users can expect a fantastic viewing experience. Even though iPad 7 has an oleophobic coating and scratch-resistant glass, accidents can happen and users can end up with cracked glass on iPad 7.
Cracked glass on this device will not just affect your viewing experience, but it can also lead to further damage to the device. In addition, it can also cut users' fingers and hands. In other words, if the glass is cracked, you should ask for professional help as soon as possible.
Repair cost to fix broken iPad 7 screen
It's difficult to say how much it would cost to repair an iPad 7 screen. First of all, the cost depends on the repair service you have chosen. Next, it depends on the quality of replacement parts. To make sure that you get the best service at a low cost, you should look for service providers with good reviews.
Screen Fixed is one of these services that have already helped hundreds of users. Our mission is to establish long-term business relationships with satisfied customers and that's why we are repairing devices, including iPad 7, at a reasonable price. With our help, you will get fast, inexpensive and long-lasting screen repair services.
Best way to stop your iPad Screen Breaking
It's always a better idea to prevent than to heal, right? It turns out that there are a couple of things that iPad 7 users can do to stop their iPad screen breaking. First and foremost, you have to be more careful. Is it a good idea to leave your iPad close to children without any supervision? The answer to this question is obviously a big NO. The same goes for taking your iPad to the beach or leaving it on places where you (or someone else) can break it, like the edge of a table for example.
Another thing that users of these high-quality devices can do to prevent screen damage is to use specially designed screen protectors. They are made of special materials and extend the resistance to damage to some extent.
Where to repair your iPad 7 in Australia
Now, this is a good question that every person with a malfunctioning iPad 7 in Australia should ask. The truth is that there are dozens of repair services provided across the country. But, it's also true that not all of them are equal. So, there are service providers that are much better than the others.
At Screen Fixed, you can expect a completely professional iPad 7 screen repair service. We have a team of knowledgeable, trained and experienced technicians that knows how to finish this task without any hassles. The best part is that you will get your iPad 7 back in one hour. Feel free to leave your damaged device at one of our stores and get back in just one hour!
Screen Fixed is an independent, 3rd Party Repair provider. Our business is in no way affiliated with Apple Inc.