Broken your iPhone Screen and want to do the repair with a Screen Fixed iPhone Repair Kit? – Great !
The popularity of iPhone has taken over, its a world wide must-have. The only problem is iPhone screens are prone to breaking and the battery will eventually burn out. Welcome to Screen Fixed Australia – The leading iPhone, Google and Samsung Repair centre in Australia. We're here to fix and repair your iPhone screens. We now offer premium quality Replacement iPhone Screen Parts for you in Australia. We offer iPhone repair kits for all major models –  iPhone 5 , iPhone 5c, iPhone 5s, iPhone 6 and iPhone 6 Plus, iPhone 6S, iPhone 7, iPhone 8., iPhone 8 Plus and iPhone X, iPhone XS, iPhone XR, iPhone 11 and more. If you happen to have one of those days where your device hits the sidewalk then you can bet your bottom dollar that your screen will break into a million pieces. Not to worry…
Screen Fixed Brisbane, Sydney & Melbourne are your one stop iPhone, Google, Samsung and OnePlus repair shop, we take pride in putting you, the customer first. You can purchase our iPhone LCD Screen repair kits online or you can pop on down to the repair shop and have your device repaired well you wait. No matter where you are, we're always trying to make the iPhone repair process as customer focused as possible. This December we will be launching a new line of products; iPhone LCD Screen Glass replacement kits.
What is an iPhone Screen LCD & Glass Replacement Kit ?
Screen Fixed Australia; Brisbane, Sydney and Melbourne is providing an effective solution to repair your iPhone on your own in the comfort of your own home. The good guys at Screen Fixed Brisbane, Sydney & Melbourne are offering a unique, tested and dependable iPhone repair kit that can help users not only save money, but also share in the great sense of achievement that comes with doing it yourself! Screen Fixed Australia has been moving mountains to bring an optimal line of repair kits to the customer. Today there are too many iPhones that sustain damage only to end up in the back of a sock draw, it's time to change that!
In short, Screen Fixed Australia is giving you the combination of superior iPhone replacement components and superior repair tools so you can get the job done. You can easily repair your iPhone 7 Screen without putting in too much effort or spending a lot of money. The best thing is that you aren't dependent on anybody else, Screen Fixed now gives you the resources you need to easily repair your iPhone, Google, Samsung or OnePlus Screen, battery or charge port from the comfort of your own home.
Why Choose Our iPhone Screen Replacement Kits?
• Prices That Don't Break The Bank
Not only is doing it yourself fun and liberating, it also saves you money! Screen Fixed Brisbane is offering 'Do it yourself' iPhone LCD screen replacement kits starting at $49.00. The best thing about it is our superior parts are backed with a 6 Month warranty. The kit also comes with an easy to follow guide so you can successfully repair your iPhone screen, Google Pixel Screen from the comfort of your home. 
• Superior iPhone Replacement Tools And Replacement iPhone Parts in one Kit
In our pursuit of customer satisfaction, we've found that attaining such reputation can really only come from two things; offering what we call "superior parts" coupled with "killer customer service".
• Guaranteed Satisfaction – 6 Month Warranty
Screen Fixed guarantees value in every repair kit, All parts are the very best quality. We say "Superior" grade parts or no parts! iPhone is something you use every day, don't replace your device with anything but the best. Screen Fixed pledges a 6 Month warranty on all parts sold.
• Suitable For All iPhones 5 – iPhone 7 Plus
We offer a wide range of iPhone screen replacement kits for the iPhone line. Currently we have; iPhone 5c lcd replacement kits , iPhone 5 lcd replacement kits , iPhone 5s LCD replacement kits , iPhone 4s replacement kits and more
• Step By Step Guide And Instructions
The repair kit comes with simple to follow, step by step instructions which allow you to perform the repair with ease. We also send you a link to a relevant repair video, this makes things super easy. Just in case you do happen to get stuck, we have a friendly customer service team who can assist you should this unlikely scenario play out.
iPhone Screen Replacement Kit Contents
Listed below is the key components that make up the repair kit.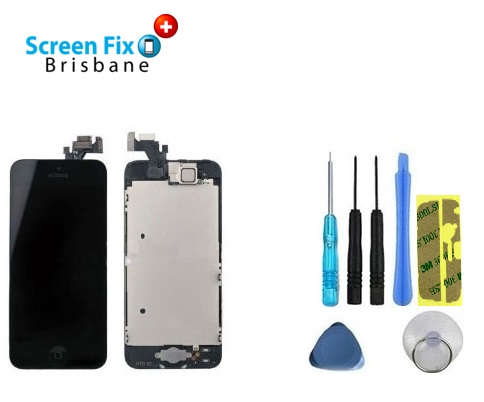 • Superior iPhone 5s Screen Replacement (LCD)
• Superior Phillips screwdriver
• Superior Pentalobe Screwdriver
• Superior Flat Head Screwdriver
• Superior Nylon Pry Tool
• Superior Suction Cup
• YouTube Repair Video
• Replacement Adhesive
• SIM Opening Tool
• Cleaning Cloth made with Micro Fiber
Thanks for reading, Have a wonderful day wherever you are!
Thanks,
Screen Fixed Team
[email protected]
1300-193-331
Screen Fixed Sydney CBD
Screen Fixed Brisbane CBD
Screen Fixed Melbourne CBD