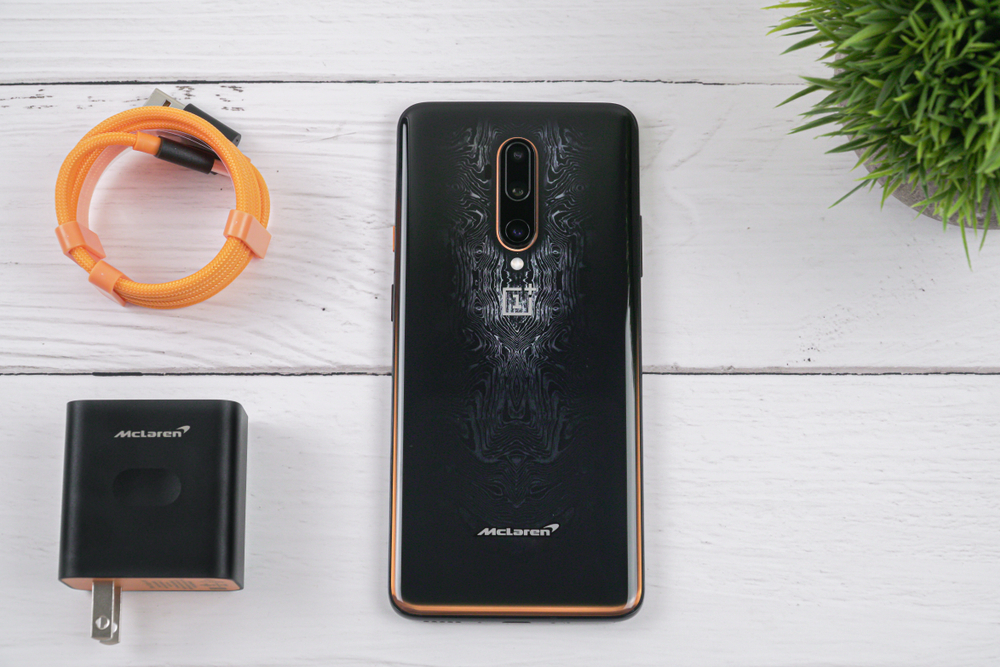 OnePlus fans were quite excited when the Chinese manufacturer released the OnePlus 7T Pro model, but they were even more thrilled when this trending brand has unveiled the OnePlus 7T Pro McLaren Edition. The latter is a true treat for people who are interested in phones that have special features inspired by the F1 team McLaren, this smartphone includes high-end technology and things that make the smartphone experience unforgettable.
It's worth mentioning that this specific smartphone model was announced in October 2019 and became available worldwide in December 2019. Another thing that you should know is that this is not the first McLaren edition in OnePlus devices. Namely, there is a 6T McLaren edition too. The main differences between the "regular" and McLaren edition are found in the device's software, cameras, and chipset. Now let's see what users can expect from OnePlus 7T Pro McLaren edition.
An aggressive look and long lasting build.
Of course, one of the most noticeable things about OnePlus 7T Pro McLaren edition is its appearance. As previously mentioned, the device was inspired by the famous Formula One team and there are a few things including the imprints on the backside of the phone that will remind you of this racing team. This smartphone has an aggressive, sporty design and its ideal for young people, but also for those who feel young in spirit.
When it comes to dimensions, we can freely say that this model is quite big. With dimensions of 162.6 x 75.9 x 8.8 millimeters (or 6.4 x 2.99 x 0.35 inches) OnePlus 7T Pro McLaren Edition is quite bigger than the iPhone 11 Pro or Samsung S10+ for example. But, these dimensions affect the weight of the phone too. It weighs 206 grams (7,27 oz) compared to 175 grams (6.17 oz) found in Samsung S10+ for instance. The good thing is that it uses the latest Gorilla Glass 6 series on the front side and Gorilla Glass 5 series on the backside. In addition, it has an aluminum frame. These things make this phone very durable. As for the SIM, as some of you might have already guessed, you can expect a Dual Sim solution with Nano-SIMs slots and dual standby feature. All in all, this is a great-looking smartphone that should last for a long period of time when used in a proper way.
A customized platform that provides excellent results
One of the things that make OnePlus an inventive company is the fact that they are always investing in research and development. That's how they have developed OxygenOS, an operating system that's based on the Android mobile OS. In the case of 7T Pro McLaren Edition, we are talking about the latest OxygenOS 10.0 that equals Android 10.0. All the Android apps are working flawlessly on this customized platform.
The manufacturer has decided to include an interesting and powerful central processing unit in this model – an octa-core unit that includes three different types of cores – 4×1.78 GHz Kry 485, 3×2.42 GHz Kryo 485, and 1×2.96 GHz Kryo 485. Those of you who are following the mobile scene will be pleased to hear that OnePlus 7T Pro McLaren Edition has a Qualcomm SM8150 Snapdragon 855+ chipset. Keep in mind that when it comes to GPU, this smartphone has the same GPU as Samsung S10+ and that's Adreno 640 (700 MHz).
A durable display loaded with striking colors
You can't expect much from a new smartphone if it doesn't have a good display. Fortunately, OnePlus 7T Pro McLaren Edition has users covered. Instead of a dynamic display like Samsung, this phone comes with an equally interesting and lively Fluid AMOLED capacitive touchscreen that boasts 16 million colors. You can expect a true spectacle on the display that comes with a size of 6.67 inches or 108.8 square centimeters. This means that the device has a screen-to-body ratio of 88.1% compared to iPhone 11 Pro that has STP ratio of 82.1%
OnePlus 7T Pro McLaren Edition also has one of the best resolutions when it comes to the display – 1440 x 3120 pixels with a 19.5:9 ratio. Even though Samsung S10+ has slightly more pixels per inch, with 516 PPI density, this OnePlus model is definitely among the best phones. Of course, a display like this has to be protected well and this is the main reason why this phone uses Corning Gorilla Glass 6. Some other things associated with the display of this smartphone that readers might find interesting is the support of HDR10+ technology, DCI-P3 100% standards and 90 Hz refresh rate.
OnePlus 7T Pro Camera Specs
We can't imagine a high-end smartphone without a good camera, but OnePlus 7T Pro McLaren Edition takes these things on another level. Namely, they have one of the most powerful main cameras available on the market today. Just like in the case of other phones that belong to this category, McLaren edition has three cameras. The most powerful one is the 48 MP wide camera that includes PDAF, OIS and laser AF. In addition to this camera, there is also an 8 MP telephoto camera with a 3x optical zoom and 16 MP ultrawide camera. The good thing is that this phone includes a Dual-LED flash that allows taking great photos even in dark places. We should also mention the panorama feature and HDR.
As for the videos, the main camera allows users to take videos in a few different resolutions – 2160p (4K) in 30 or 60 frames per second, 1080p (Full HD) in 30, 60 or 240 fps and 720p (HD Ready) in stunning 960 fps. The video option comes with an auto HDR and gyro-EIS feature.
OnePlus 7T Screen Repairs
Since the launch of OnePlus 7 series, Screen Fixed has seen a large swath of repair requests broken OnePlus 7 Pro Screen Repairs, we're happy to say we are offering a high quality repair for this model. The 7T however does not yet have parts available in the market. Screen Fixed has been informed by suppliers that we will have access to parts in early has Chinese spring carnival and new year come to a close. Repairs for OnePlus 7 Pro and 7T Pro more or less follow the same standard process.


Of course, there is a selfie camera present in this smartphone too. This time, we are looking at a motorized pop-up wide selfie camera of 16 MP. It comes with an Auto-HDR feature that has proven to be quite handy. You can use the same camera to take videos with 1080p at 30 frames per second. This selfie camera also has a gyro-EIS feature.
Communications and network – 5G support included
One of the major selling points of OnePlus 7T Pro McLaren Edition is the fact that this device comes with 5G support. This is something that just a handful of phones can do today even though more and more smartphones will include 5G technology in 2020. Don't forget that this support is available only in devices where 5G is specifically mentioned as part of the features available in the phone.
The WLAN specifications show that this model supports standard Wi-Fi, Wi-Fi Direct, dual-band, hotspot, and even DLNA. It also provides support for the latest 5.1. Bluetooth connection. The good thing is that the McLaren Edition has NFC too which means that mobile payments with this device are very easy. There's no radio and infrared support on this phone.
Standard features
We should mention that OnePlus 7T Pro McLaren Edition meets and probably exceeds the expectations of users when it comes to standard features. From an accelerometer and compass to proximity sensor and gyro – this smartphone has you covered. We would also like to point out that the fingerprint sensor is optical and placed under the display making it easy for users to pass the protection verification process. OnePlus 7T Pro McLaren Edition has stereo speakers but doesn't have a 3.5mm jack. It supports Dolby Atmos sound and comes with active noise cancellation with dedicated mic.
OnePlus 7T Pro Battery Life
One of the things that make OnePlus 7T Pro McLaren Edition different than ordinary OnePlus 7T Pro is the battery. Namely, the latter has a 3,800 mAh non-removable Li-Po battery. On the other hand, the McLaren Edition device has a Li-Po 4085 mAh battery. To be honest, that's not a huge difference, but you can expect to get at least 30 minutes more in standby and talk time. The latest drain tests have shown that with a battery like that, users can talk and use this device for about 16 and a half hours.
If that's not enough for you, we should mention that McLaren Edition just like the rest of the OnePlus 7T models has ultra-fast charging. So, even when your battery is drained, it won't take much time to charge the phone. To be more precise, this type of charging allows users to charge their devices from 0% to more than 60% in about half an hour.
OnePlus 7T Pro McLaren Edition – is it worth it?
You can't expect to get a smartphone like this for just a couple of hundreds of dollars. This phone is more expensive compared to other OnePlus 7T models which makes sense because you can expect to get more from it. So, is it really worth buying OnePLus &T Pro McLaren Edition? It depends on what you are looking for. If you need a smartphone with stunning cameras, great connectivity and design that makes it stand out from the crowd, we say go for this model.