Stainless Steel or Aluminium iPhone?
Some people are big fans of it while others say that it's not worth the money, yet all of them agree that iPhone is among the most powerful and complete smartphones users can find on the market. As you are probably aware, Apple is releasing new iPhone models every year. The company usually reveals two or three models, one of the models that Apple released in 2018 was iPhone XS. Just last year, in 2019 Apple has unveiled the iPhone 11. So, it's quite natural that people today are wondering whether they should purchase the iPhone XS or they should opt for the newer iPhone 11. To clear these dilemmas, we have created this guide where we compare the iPhone XS vs iPhone 11.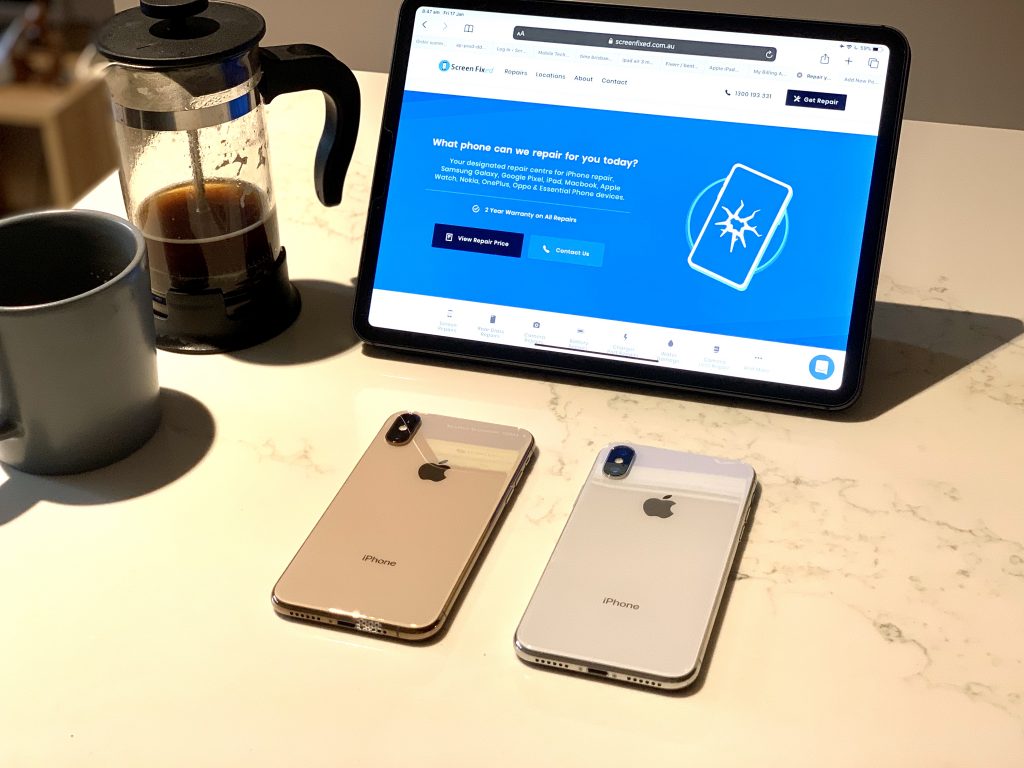 Basic information including network comparison
First of all, let's highlight the fact that the iPhone XS was announced and released in September 2018. The latest – iPhone 11 was released in September 2019. Both devices were released in time as planned.
When it comes to network, both phones use almost the same technology. They support standard 2G, 3G and 4G network requirements. Both devices have the same speeds when it comes to data transfer. What's worth mentioning that even though iPhone 11 was released in late 2019, this phone doesn't support 5G.
iPhone 11 Dimensions, build and more
As some of you might have already guessed, the first thing you will notice about these smartphones is the difference in their appearance. Of course, they both have contemporary designs, but the fact is that iPhone 11 is bigger. It comes with dimensions of 5.94 x 2.98 x 0.33 inches (150.9 x 75.7 x 8.3 millimeters) compared to iPhone XS' dimensions of 5.65 x 2.79 x 0.30 inches (143.6 x 70.9 x 7.7 millimeters). As a result of that, iPhone 11 is slightly heavier than its predecessor 6.84 oz (194 grams) compared to 6.24 oz (177 grams).
The next difference that you might be able to spot fast is the build. Even though they both have glass front and back (durable Gorilla Glass), the frame is different. While iPhone XS has a stainless steel frame, iPhone 11 comes with an aluminum frame.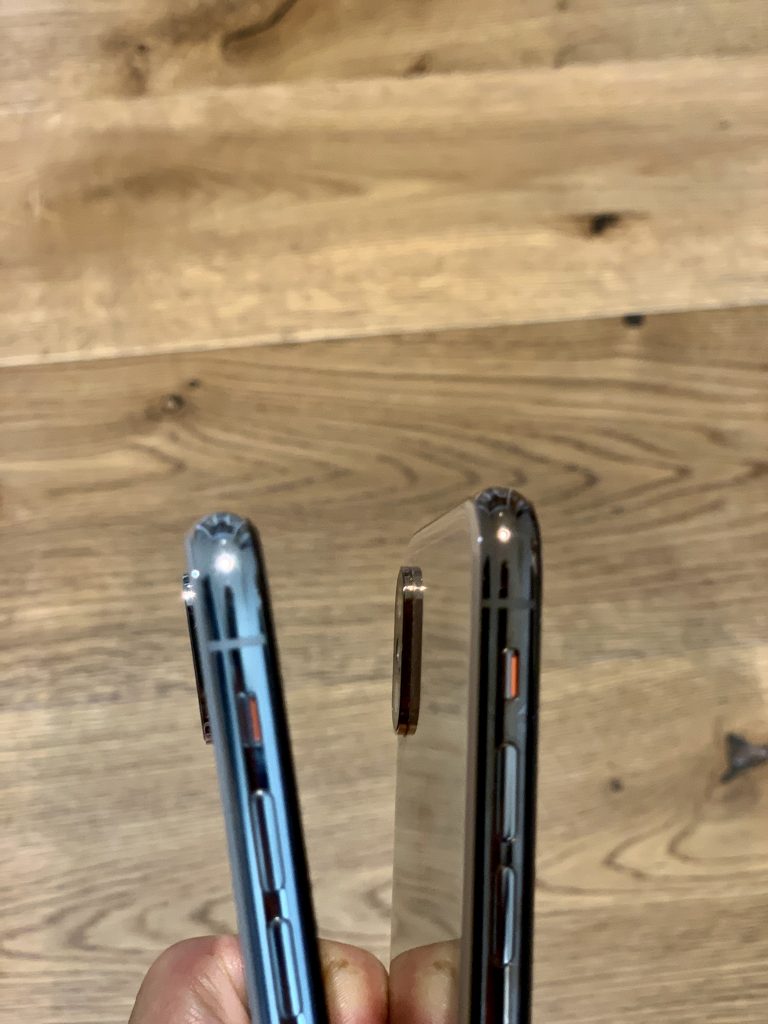 The next thing that we should mention is the resistance standards. However, there's no difference in this area – both smartphones are IP68 dust and water-resistant up to 2 meters for 30 minutes. We should also mention that these devices come equipped with an Apple Pay feature that's certified by MasterCard, Visa and American Express.
Memory and Chip-ware on iPhone 11
Just like in the case of older iPhones, these two are available in a few different variants when it comes to the capacity of internal memory. Namely, the iPhone XS is available in 64 GB/ 4 GB RAM, 256 GB/ 4 GB RAM and 512 GB/ 4 GB RAM while the iPhone 11 is available in the same variants as well as in 128 GB/ 4 GB RAM. Don't forget that this capacity depends on the market where you are planning on purchasing these devices, but it's a well-known fact that you can all variants in Australia.
When iPhone XS was released it came with iOS 12, a popular version of iOS. It is now upgradable to the latest iOS 13.3. iPhone 11, on the other hand, was released with a native iOS 13 version. As expected, it can be upgraded to iOS 13.3 without any problems. But, there's a difference between the chipsets found in these phones. Namely, the 11 model has Apple A13 Bionic (7 nm+) chipset while the XS model comes with Apple A12 Bionic (7 nm). iPhone 11 has a slightly better CPU compared to iPhone XS – they both have Hexa-core CPU, but 11's has 2 x 2.65 GHz Lightning and 4 x 1.8 GHz Thunder while XS has 2 x 2.5 GHz Vortex and 4 x 1.6 GHz Tempest. The GPU is the same in both devices. All these things make iPhone 11 a slightly faster device.
iPhone 11 Camera Specs – Powerful!
Using a smartphone that doesn't have a good camera today would be a huge mistake. Luckily, both of these smartphones have excellent cameras. The main difference between them is the improved front camera found on iPhone 11. Otherwise, they have more or less the same main (back) camera – 12 MP and another 12 MP camera (dual camera). Keep in mind that 11 has an ultrawide lens. Taking videos with this camera is easy and you can expect high-quality videos of up to 2160p at 60 frames per second on both phones.
Now let's focus on the selfie (front) cameras. The things that are the same in both cameras is the HDR feature and SL 3D camera. However, iPhone XS has a 7 MP front camera while iPhone 11 has a 12 MP camera. It's also good to know that unlike XS that can take only Full HD videos, 11 can shoot 4K videos at up to 60 frames per second with the front camera.
iPhone XS Battery was not great, here's what we think about the iPhone 11 battery life
You won't benefit much from interesting features, great cameras, excellent displays, and powerful chipsets if the battery of your smartphone is weak. Fortunately, that's not the case here. The iPhone XS has a non-removable lithium-ion battery with a capacity of 2658 mAh. That's an excellent capacity, but Apple has decided to upgrade that battery in its iPhone 11 model. So, the battery in this model is a non-removable lithium-ion battery of 3110 mAh.
Both devices provide fast battery charging and Qi wireless charging, the only difference is that the battery is charged slightly faster with the iPhone 11. As a result of the more powerful battery present in the iPhone 11, users can expect talk time (and multimedia use) of up to 17 hours before charging compared to 14 hours expected with iPhone XS.
iPhone Displays that allow a wide range of activities
Now let's check the types of displays present in these phones. For starters, the iPhone XS comes with a Super Retina OLED capacitive touchscreen with 16 million colors. The iPhone 11 has Liquid Retina IPS LCD capacitive touchscreen with 16 million colors. So, these displays are similar even though they are based on different technologies.
What's interesting is that even though the size of the screen in the iPhone 11 is bigger (6,1 inches) the screen-to-body ratio is lower – around 79% compared to iPhone XS's 82.9% screen to ratio score. Yet, iPhone XS still has a smaller screen – 5.8 inches. Let's not forget that the older model has a better resolution – 1125 x 2436 (458 pixels per inch density) compared to 828 x 1792 (326 pixels per inch). As for the features and protection you can expect to find in these devices, you will get more or less the same things – Dolby Vision support, oleophobic coating, scratch-resistant glass, HDR10, 120 Hertz touch-sensing etc.
iPhone 11 Features Vs iPhone XS
There were no revolutionary breakthroughs in the field of mobile technology between 2018 and 2019 and that's why the main features found in these two devices are almost the same. The popular Face ID feature is present in iPhone XS as well as on iPhone 11. The standard gyro, proximity, accelerometer, barometer and compass features are found in these two devices too. Users who are interested in taking advantage of virtual assistants can rely on Siri in both cases.
iPhone 11 Repair Price in Australia
It may seem quite strange that the price of the iPhone XS screen repairs more expensive compared to the price of the iPhone 11 The later is the latest model of iPhone and as such it belongs to the category of most expensive devices made by Apple. The price depends on the retailer that you are planning on using, but generally speaking, you can find that iPhone XS (being OLED) is around 30-40 percent more expensive to repair the screen compared to iPhone 11 screen repairs in Australia
Unlike the iPhone XS which is an OLED display assembly, the new iPhone 11 is LCD this means iPhone 11 screen repairs will retail cheaper than the iPhone XS screen replacement cost here at Screen Fixed Australia. This s due the lower cost input, LCD displays can be unto 60% cheaper to manufacture than OLED displays which are mostly made by Samsung and LG.
Conclusion
There's no clear winner in this comparison. Both iPhone XS and iPhone 11 are excellent devices suitable for the needs of modern mobile users who are looking for a way to get the most from the latest technology. Of course, the iPhone 11 comes as an improved device, but these improvements are not critical. In other words, iPhone XS has a lot of things to offer and it is definitely not an outdated device. One of the biggest differences here is the size of the device even though we should not forget to mention the performance of the front camera, battery and chipset too.
It's very difficult to say which device is better because each of them comes with certain pros and cons. The good news is that the number of pros is much bigger than the number of cons. Are these devices worth the price? If you are using your device on a daily basis and you want to get more than simple photos, web browsing and phone calls, then you should opt for one of these devices. Those of you who want to save some money and still get a premium experience provided by a great mobile device should start with iPhone XS. This model will stay powerful at least for at least a few years.