The Samsung Galaxy line of smartphones is one of the world's most popular – and there are many people that use these smartphones. And it's easy to see why – the Samsung Galaxy phones are sleek and elegant, and they run on powerful technology. However, it would be unreasonable to expect that the Samsung Galaxy smartphones are impenetrable and unbreakable.
One part of the phone that tends to malfunction sporadically is the charger port. This is the small hole at the bottom of the phone where you're able to put your charger so that the battery will get charged. It's easy to understand the importance of this part – if the charger port malfunctions, then you won't be able to charge your battery. Below are the 4 signs you need a Samsung Galaxy Charger Port Replacement.
1. Samsung Galaxy not charging
The first sign is the most obvious one – for some reason, you're not able to charge your Samsung Galaxy smartphone, even though the charger is properly connected to the charger port and to a wall socket. Two things that you need to set aside when diagnosing your Samsung Galaxy Charger Port is the health of the charger cable and the wall socket. It may be the case that your charger port is fully functional – but there is a problem with the cable or the socket.
But if the cable and the socket are fully functional and the phone still doesn't charge – then it may very well be the case that your Samsung Galaxy charger port has malfunctioned – and it needs replacement if the phone is to continue to work.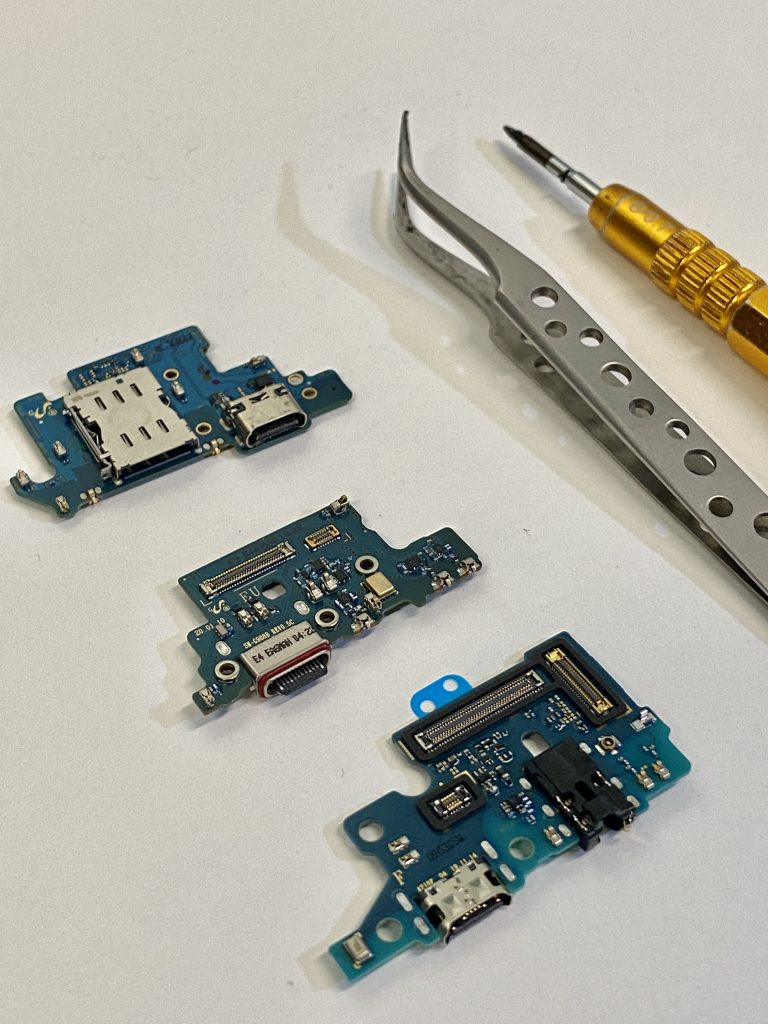 2. Moisture Detected in Samsung Galaxy Charger Port
Common sense tells us that water and electronics don't mix up. One of the easiest ways to break any electronic equipment is to get in contact with water. Even a small amount of water will do – electronics are notoriously susceptible to water damage. This is why it's very important to keep your Samsung Galaxy smartphone away from water – even though the particular model that you own may be "waterproof".
So, if there's moisture detected in the Samsung Galaxy charger port, then it may very well mean that you will have to replace it. But make sure to test things out first – use a dry cloth to gently wipe any remaining moisture and let the charger port air dry. Then try to charge your phone. If this fails, then you'll need to replace the charger port.
3. Samsung Galaxy Won't Charge Temperature too Low
If you get a "temperature too low" warning when trying to charge your Samsung Galaxy smartphone, then this too may be a sign that the charger port needs replacement. Again, this problem may have various causes. It may very well be the case that the batter is indeed too cold to be charged – and the solution is as simple as warming up your phone. But in most cases, you will discover that the charger port malfunctions – as this is a frequent error message that Samsung Galaxy users get when there are problems with the charger port. So, an effective solution to this problem would be to replace your Samsung Galaxy charger port.
4. Broken Samsung Type C Charger Port
And lastly, we have a very obvious cause of malfunction – mechanical damage. The charger port may very well get broken due to physical trauma – like the phone hitting the ground. If you notice any physical damage from your point of view, chances are that the charger port will need replacement. Also, you may not even see the damage with your eyes – but the damage may be there. It's best if you let a professional diagnose the charger port of your Samsung Galaxy and if it's damaged – then you can replace it with a new one.
Conclusion
Those were some of the most frequent and obvious signs that you may need a Samsung Galaxy Charger port replacement. Luckily, this is an inexpensive and quick procedure – and the charger port can easily be replaced with a new, fully functional one.