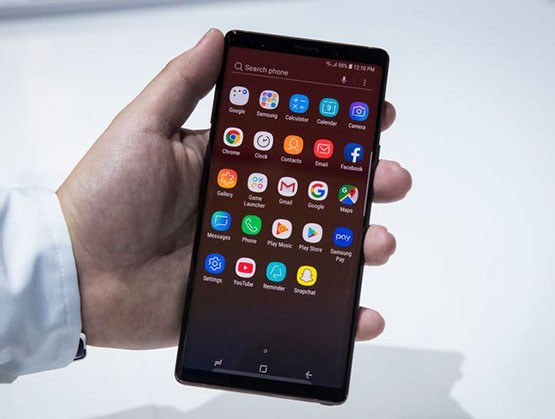 Factory reset on Samsung Galaxy S is easier than most people think. Yet, "how to factory reset Samsung Galaxy S" remains to be one of the most frequently asked questions on search engines today. The good thing is that users of these popular devices have at least three legitimate ways to finish a procedure like this and we will explain both of them in this guide.
The Samsung Galaxy S series represents a line of flagship mobile devices created by Samsung Electronics. These are all Android-based devices which include smartphones and tablets. The first member of this family of high-end mobile devices was introduced in 2010. There are over ten smartphones and five tablets that belong to this series today. Now that you've become familiar with this series of mobile devices, it's a good idea to mention the reasons why someone would want to factory reset their device.
Why would someone want to factory reset Samsung Galaxy S?
There are usually many different reasons why people want to factory reset Samsung Galaxy S. These reasons are listed by many Android users in general. First and foremost, some of them will notice that their Samsung device is cluttered by a high number of applications they have downloaded over time. Many of these apps are not used for a long period of time, but uninstalling these apps requires time and energy. In addition, even when you remove them from your device, some files associated with these apps might stay on your Samsung Galaxy S. A simple factory reset which will wipe out all the stored data on your device can solve this issue.
Next, there are many Samsung Galaxy S users that want to sell their devices. Most of them are interested in buying a newer Samsung Galaxy S model. Regardless of why they want to sell their device, it's good to know that the factory reset can help them protect their private information before they hand their device over to the new owner. There are also people who own Samsung Galaxy S who are interested in selling their devices in order to speed up their device because it started running slow.
Factory reset Samsung Galaxy S from the settings menu
If you have access to your device (you can operate the device without password restrictions), you can try this method.
Go to the home screen and select the Menu button
After that, select Settings and go to the Accounts tab
The next step requires users to select Backup and reset option
After that, you can select Automatic restore and clear the checkbox if you want to
You can also select Back up my data to clear the checkbox if you want to
Next, select Factory data reset and tap the Reset device option
In case your screen lock feature is activated, you will be asked to write the PIN code or password. Finish this and select Continue.
The final step is to tap Delete all and wait for this procedure to finish. It usually takes just a couple of minutes to complete this procedure.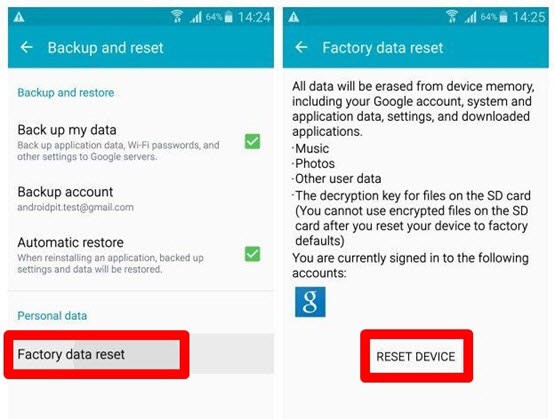 Factory reset Samsung Galaxy S with hardware keys
There are situations when you are unable to access your device (software problems, forgotten password, etc.). The good thing is that even in situations like this you will be able to finish this procedure.
Locate the Volume Up, Power and Home/Menu button and press them at once. Keep these buttons pressed.
Once you notice that the phone boots, release the Power button, but keep pressing the Home/Menu and Volume Up buttons.
When the recovery menu shows up on the main screen, release all the buttons. You should use the Volume down button to select different options on the menu.

Use the Volume down button to reach the Wipe Data/Factory reset button and press the Power button to proceed. After that, press the Volume down button again to select Delete All User Data and push the Power button to confirm. In some cases, you will have to confirm your action one more time and you will once again have to use the Volume down and Power buttons.
Factory reset Samsung Galaxy S with the help of professional repair service providers
In case you are unable to finish this process on your own, you can always take your device to a professional repair service provider like Screen Fixed. These service providers have professional technicians that can help you finish the resetting process and more.