How to take good care of your Google Pixel 2 XL
Be proactive and protect your Google Pixel 2 XL
It is crucial to learn how to take good care of your Google Pixel. This is quite logical because this smartphone is relatively expensive. In addition, if you are not using and maintaining this device in the right way you will experience problems frequently. It turns out that it's not difficult to ruin your Google Pixel, but with the help of these tips, you should be able to keep the screen, charger, and battery safe. Now let's see what Google Pixel users can do to ensure the longevity of their device and the optimal performance of their Google Pixel smartphone.
Avoid water and wet environments
Even though Google Pixel is waterproof to some extent, the truth is that water and wet environments are not friends of this device. Try to keep your Google Pixel away from wet environments like shower rooms and bathrooms. Keep in mind that damage caused by liquids is not part of the warranty. You can also use a waterproof cover designed for this smartphone.
Avoid dirt and dust
This is another general advice for Google Pixel users. However, we all know that it is almost impossible to avoid dirt and dust regardless of the place where you are living. That's why it is highly recommended to clean the device to eliminate dirt and dust. The best option is to rely on a soft cloth without lint. Paper towels, towels, and abrasive cloths can lead to different types of damage.
So, disconnect Google Pixel from any power sources. Move any external devices and cables from the device. Remove liquids from the area. Don't use sprayers directly on the device.
Protect your Google Pixel Battery
Google Pixel has excellent battery life. Even though similar batteries have been used in older smartphones, people are still not sure how they should charge the battery. Should they wait until the battery is completely drained before charging? Is it a good idea to charge the battery 100%? According to many experts, these questions are irrelevant. This is a sophisticated device that has excellent power management that keeps the battery safe.
There are some things that you can do to keep the battery in a good shape. For instance, you can enable Wi-Fi. Wi-Fi is a much better option than mobile data because it uses less power. Even better, turn the Wi-Fi off when you don't need access to the Internet. You should also turn Auto-Brightness on and get data less frequently.
Let's be clear – no Google Pixel user wants a scratched screen. This phone comes with a protective glass which is quite powerful but doesn't make it scratch proof. So, be very careful when you put your device in your pocket or purse. Obviously, don't place it close to your keys. If you are living a fast-paced life, then you will probably forget about these tips after a while. Buying and using a screen protector or a case should solve this issue.
Don't clutter your Google Pixel 2 XL with photos, videos, and apps
In our opinion, it's a smart move to keep a small amount of memory free on your device. Check how much storage is available and remove the photos, videos, and apps that you don't need. Needless to say, you can always store your videos and photos in the cloud.
Be careful with the Google Pixel Type C Port
The connector that lets you transfer data and charge your phone is very fragile and sensitive. Don't yank the cables and conduct these activities gently and without hurries./,/p>
Follow these tips if you want to keep your Google Pixel safe. In case you have any problems, contact Screen Fixed for assistance.
Screen Fixed offers Google Pixel Repairs in Sydney, Brisbane and Melbourne
Phone: 1300-193-331
Email: [email protected]
Web: https://www.screenfixed.com.au
Superior iPhone LCD Repair Kits
Broken your iPhone Screen and want to do the repair with a Screen Fixed iPhone Repair Kit? – Great !
The popularity of iPhone has taken over, its a world wide must-have. The only problem is iPhone screens are prone to breaking and the battery will eventually burn out. Welcome to Screen Fixed Australia – The leading iPhone, Google and Samsung Repair centre in Australia. We're here to fix and repair your iPhone screens. We now offer premium quality Replacement iPhone Screen Parts for you in Australia. We offer repair kits for all major models –  iPhone 5 , iPhone 5c, iPhone 5s, iPhone 6 and iPhone 6 Plus, iPhone 6S, iPhone 7, iPhone 8., iPhone 8 Plus and iPhone X. If you happen to have one of those days where your device hits the sidewalk then you can bet your bottom dollar that your screen will break into a million pieces. Not to worry…
Screen Fixed Brisbane, Sydney & Melbourne are your one stop iPhone, Google, Samsung and OnePlus repair shop, we take pride in putting you, the customer first. You can purchase our iPhone LCD Screen replacement kits online or you can pop on down to the repair shop and have your device repaired well you wait. No matter where you are, we're always trying to make the iPhone repair process as customer focused as possible. This December we will be launching a new line of products; iPhone LCD Screen Glass replacement kits.
What is an iPhone Screen LCD & Glass Replacement Kit ?
Screen Fixed Australia; Brisbane, Sydney and Melbourne is providing an effective solution to repair your iPhone on your own in the comfort of your own home. The good guys at Screen Fixed Brisbane, Sydney & Melbourne are offering a unique, tested and dependable iPhone repair kit that can help users not only save money, but also share in the great sense of achievement that comes with doing it yourself! Screen Fixed Australia has been moving mountains to bring an optimal line of repair kits to the customer. Today there are too many iPhones that sustain damage only to end up in the back of a sock draw, it's time to change that!
In short, Screen Fixed Australia is giving you the combination of superior iPhone replacement components and superior repair tools so you can get the job done. You can easily repair your iPhone 7 Screen without putting in too much effort or spending a lot of money. The best thing is that you aren't dependent on anybody else, Screen Fixed now gives you the resources you need to easily repair your iPhone, Google, Samsung or OnePlus Screen, battery or charge port from the comfort of your own home.
Why Choose Our iPhone Screen Replacement Kits?
• Prices That Don't Break The Bank
Not only is doing it yourself fun and liberating, it also saves you money! Screen Fixed Brisbane is offering 'Do it yourself' iPhone LCD screen replacement kits starting at $49.00. The best thing about it is our superior parts are backed with a 6 Month warranty. The kit also comes with an easy to follow guide so you can successfully repair your iPhone screen, Google Pixel Screen from the comfort of your home. 
• Superior iPhone Replacement Tools And Replacement iPhone Parts in one Kit
In our pursuit of customer satisfaction, we've found that attaining such reputation can really only come from two things; offering what we call "superior parts" coupled with "killer customer service".
• Guaranteed Satisfaction – 6 Month Warranty
Screen Fixed guarantees value in every repair kit, All parts are the very best quality. We say "Superior" grade parts or no parts! iPhone is something you use every day, don't replace your device with anything but the best. Screen Fixed pledges a 6 Month warranty on all parts sold.
• Suitable For All iPhones 5 – iPhone 7 Plus
We offer a wide range of iPhone screen replacement kits for the iPhone line. Currently we have; iPhone 5c lcd replacement kits , iPhone 5 lcd replacement kits , iPhone 5s LCD replacement kits , iPhone 4s replacement kits and more
• Step By Step Guide And Instructions
The repair kit comes with simple to follow, step by step instructions which allow you to perform the repair with ease. We also send you a link to a relevant repair video, this makes things super easy. Just in case you do happen to get stuck, we have a friendly customer service team who can assist you should this unlikely scenario play out.
iPhone Screen Replacement Kit Contents
Listed below is the key components that make up the repair kit.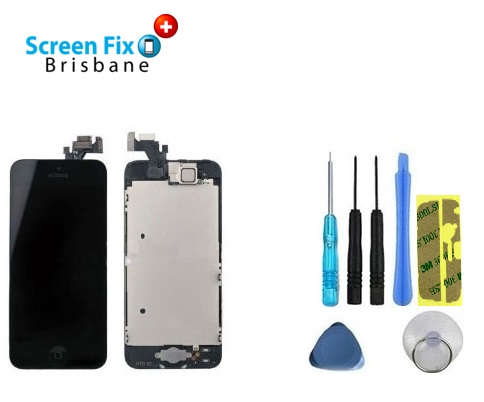 • Superior iPhone 5s Screen Replacement (LCD)
• Superior Phillips screwdriver
• Superior Pentalobe Screwdriver
• Superior Flat Head Screwdriver
• Superior Nylon Pry Tool
• Superior Suction Cup
• YouTube Repair Video
• Replacement Adhesive
• SIM Opening Tool
• Cleaning Cloth made with Micro Fiber
Thanks for reading, Have a wonderful day wherever you are!
Thanks,
Screen Fixed Team
[email protected]
1300-193-331
Screen Fixed Sydney CBD
Screen Fixed Brisbane CBD
Screen Fixed Melbourne CBD