Everything that's worth knowing about iOS 9



Apple has described iOS 9, much as Google has Android 6.0 Marshmallow, as an update that brings tweaks and refinements to improve the overall performance and usability of the operating system. Of course, there are some new features thrown in for good measure, and Apple has promised a smarter Siri, improved Maps and better multitasking.
Design and tweaks
Aesthetically, you won't notice much new once iOS 9 is installed. It looks the same as iOS 8, albeit with a subtly prettier San Francisco font (as first seen on the Apple Watch) that replaces the traditional Helvetica seen on iOS devices.
Changes start to appear when you delve further into the OS. Notifications, for example, are now sorted chronologically, rather than being illogically grouped by app. As somebody who uses their iPhone a lot, this little change makes a big difference when it comes to catching up on missed emails and messages. I'm still disappointed that Notifications aren't cleared when they are in apps, however, and Apple has yet to add an option to clear them all at once.
Multitasking has been given a makeover. A double-tap of the home button now shows your open apps in an elongated card view, not dissimilar to the multitasking view introduced in Android 5.0 Lollipop. This means you can better see what's going on before choosing to jump into an app.
Another new feature makes it easier to switch back to a previous app, thanks to a small button that appears at the top left of the display.
Siri
Siri has many more strings to its bow in iOS 9. Sliding to the left-most menu reveals a list of 'Siri Suggestions' filled with your most recent contacts and apps, and headlines Siri thinks you might want to read. At the time of writing, Siri is recommending I read an article about Tony Abbott – so I think it still may need a little work.
That being said, it's perhaps more intelligent than it gets credit for. Siri doesn't just know that you're a fan of Kingdom Rush and that it will be your go-to app. It registers your habits, learning, for example, that you call your mum every Saturday at 1pm, or that you check your emails every morning while commuting. One of our favourite features of iOS 9 is that plugging in headphones automatically fires up your music app of choice, be it Apple Music or Spotify.
Apps

Typically, Apple has given some of its own apps a lick of fresh paint in iOS 9. First up, Mail. If you get a phone call from an unknown number and that phone number is in your email, it will tell you who the call might be from. What's more, if you use Apple's Calendar app (I don't), events will show up automatically.
Notes has been given a long-overdue overhaul as Apple sets its sights on the likes of Evernote. The app now supports formatting, photo insertion and handwriting, and you can switch between typing and drawing in seconds. It's still no real contender for Evernote, but iCloud syncing.
Apple Maps has been given a major revamp in iOS 9. It's now better at recommending local businesses, such as nearby restaurants, and has added public transport directions for a number of major cities.
Performance, battery life and security
Apple promises better battery life with iOS 9 but I haven't noticed much of a difference. However, there is a new Low Power Mode which, until installing iOS 9, I didn't realise how much I needed. Now, once you see the 'red bar of death', as I like to call it, switching on Low Power Mode provides enough juice for another three hours by turning off push notifications, dimming the screen and lessening the power used by the processor.
Apple has made some enhancements to the overall security credentials of iOS, adding a new six-digit passcode option and improved two-factor authentication.
In short
Truth is, most people upgrading to iOS 9 probably won't notice much of a difference. But the small changes – be it the new font, improved Notifications or a battery-saving mode – will make a huge difference to many.
Is it worth upgrading? Yes. It's by no means Apple's most exciting iOS release, but it has given the overall usability of our iPhone 6 handset a much needed boost. Of course, those with an older device such as an iPhone 5 or iPad 2 may want to exercise more caution, but for those with a newer Apple device, there's no question.
The good
Better multitasking, Siri improvements, Low Power mode, improved security, overall usability improvements, no major glitches.
The bad
Apple Maps still isn't great, no option to clear all Notifications.
The ugly
Nothing.
iPhone 6S Repairs Brisbane – Screen Fixed

And just a reminder, Screen Fixed holds stock of iPhone 6S screens so we can complete your repairs on the spot.
Cheers
Stephen Batchelor
Why is Apple winning the smartphone battle?
Why is Apple winning the smartphone battle?
Apple has unveiled its 11th iPhone, the iPhone 6S. Earlier this year Samsung unveiled the Galaxy S6, which is the South Korean giant's 9,986th smartphone.
Not really, but it feels like it is. The Galaxy S6 is just one part of Samsung's long and wide-ranging attempt to dethrone the iPhone as the smartphone of choice for hundreds of millions of people, something that's really not working.
At one point, the Galaxy S range of smartphones from Samsung looked like it could be a genuine challenger, the Galaxy S3 and Galaxy S4 sold in (relatively) huge numbers, and it looked like Samsung was on the right track.
However, in the past couple of years, as Samsung has seen sales of the Galaxy S5 falter, it has sought to diversify in order to hold its position as the world's biggest smartphone manufacturer.
So… Many… Phones
And so this year, alongside the Galaxy S6, the Galaxy S6 edge, the Galaxy Note 5, the Galaxy S6 Edge+ and the Galaxy S6 active. Before the end of the year, we will likely see the Galaxy S6 mini, the Galaxy Note 5 Active and the Galaxy S6 mini active note edge+.
I'm not 100% about that last model, but you get my point. Samsung is making it increasingly difficult for users to decide which smartphone they should buy. In 2014 alone, Samsung released 56 smartphones, at current rates, it would take Apple 28 years to release the same number of new phones.
Samsung has said it is trying to cut down, and so far this year it has released "only" 21 smartphones, though if you include variants, that figure increases dramatically.
Slow and steady
On the other hand, Apple is following a much more restricted course. Everyone knows that every September brings a new iPhone, and while that might mean lower iPhone sales in the third quarter of every year as people hold off updating, it also means that consumers are not confused.
Add to this that update cycle where Apple refreshes the design of the iPhone every two years, while the alternate S update, which we just saw, improves upon an already excellent phone.
Apple gives users three basic choices – the 4.7-inch iPhone 6S, the 5.5-inch iPhone 6S Plus and the 4.5-inch iPhone 5S. While some may bemoan the lack of diversity, it means Apple can control the experience on the phones much more tightly.
The same but different
People know that the iPhone is a good phone. There's little debating that, and Apple doesn't want to upset that perception by launching something radically different.
Instead, it has taken the iPhone 6, which was universally praised by reviewers as well as customers, and improved it dramatically. It has made one of the best smartphone cameras even better, it has boosted performance with the A9 chip, it has added a unique and potentially very useful feature with 3D Touch. As Apple says, "The only thing that's changed is everything."
Samsung, on the other hand, changes the look and feel of its Galaxy S range pretty dramatically every year, adding and removing features at random and failing to provide a consistent experience for those looking to upgrade from a previous model. They may not look radically different at first glance, but pick them up and use them, and the subtle change of a button or sensor means learning all over again how the phone works.
A smart message
The issue isn't about whether the Galaxy S6 and Galaxy S6 edge are good smartphones, they are, the issue is that Samsung simply does not communicate why they are great smartphones nearly as well as Apple does with the iPhone.
While Apple's stagecraft at such events is typically superb, it is not immune to mistakes, as we saw with senior VP Eddy Cue's embarrassing Apple Music presentation
The problem comes from the fact that Samsung is getting squeezed at both ends of the smartphone market. At the premium end, Apple is dominating while at the budget end of the market, where Samsung saw exponential growth in recent years, it is being surpassed by the Chinese smartphone makers who are offering better hardware at lower prices and are willing to undercut Samsung at every turn just to gain some market share.
Samsung needs to rethink its smartphone strategy, but it may already be too late to follow in Apple's footsteps and offer customers a clear choice of the best technology the company has to offer in a small range of smartphones that will cover the majority of the market.
iPhone 6S Repairs
The iPhone 6S hasn't shipped yet. Screen Fixed will hold stock when the device hits shelves.
Take it easy out there!

Stephen Bachelor
Screen Fix is Brisbane's Most Valued Repair Shop for iPhone Repairs and Samsung Repairs
Unfortunately it's a reality that we do drop our iPhones and galaxy smartphones from time to time, at the end of the day we are human, right?. We constantly hear about how strong the new displays are in these devices yet they still seem to crack into a 101 pieces when they sustain the slightest drop. You should be upset, these are 6th generation devices we are talking about. There is an obvious solution to this, protect your device with a rugged case. I personally don't like doing this, it removes 99% of the devices sex appeal. The good guys at Screen Fix make your repair simple and pain free. Our prices are the best in Brisbane, our talented technicians can bring your device back to life with an hour from when you initially call.
Undoubtedly, the iPhone and Samsung galaxy are unique smart phones. They are admired for their insanely great design, lightning fast speed and productivity to boot. However, this doesn't stop them from falling from ones pocket, smashing to the pavement only to wind up breaking the "Super Strong" Gorilla Glass retina or Amoled display. They may be the top of the line device, however technology is technology and it does from time to time, fail. That is why you need to employ the service of a reliable iPhone and Samsung galaxy repair company that would help bring your phone back to its normal condition.
When it comes to iPhone repair, Samsung galaxy repair, iPhone screen repair, Samsung galaxy screen repair, there is one repair company that goes that extra mile to give customers peace of mind and generally just an insanely great user experience – Screen Fix.
A 2 – year warranty is standard on all repairs, in the unlikely situation there is a problem with the part then a Screen Fix technician will replace the part that very same day.
Screen Fix is open for business 8:00am-6:00pm Monday to Friday, our services are one of the best you can get anywhere. We are Brisbane's favorite repair shop. We have now repaired over 200 devices. We certainly know what we are doing.
Apart from the fact it takes just one hour to fix your phone (iPhones and Samsung galaxy devices) after we received your call and consequently repaired your device you can rest assured because all repairs are backed by our 2 year warranty – It doesn't get much better than that.
Screen Fix realizes that not everyone wants to leave the comfort of their own home to take there device to our technician, so we offer two other ways to get your device back to life
Mail in repairs
Screen Fix has a renowned mail in repair service which was developed for those that are living in rural Australia or "outback Australia" as some like to say. Once we receive your broken device at our secure mail box, we will repair the device the same day and depending on what hour of the day it arrives we will have it packed securely and en-route back to is owner. We have had cases where this process takes as little as 3-days. Post it on Monday and we will have it back to you before the weekend!
Repair Kits
For those that are not handy to the Screen Fix repair shop, but handy with DIY we have a solution to your problem – We package everything you need to complete the repair from the comfort of your own home, you don't have to be a technician to do it! In the repair kit you will receive the screen for your particular device, the 4 tools necessary for the repair and also easy to follow step by step instructions – these instructions come in both 'print' and 'video' formats.
We have a group of experienced and highly skilled technicians who would handle your phone with care and give you the best of service that you deserve. We are known for using only superior parts when we repair our customers' devices which gives us an edge over competitors.
Give one of our friendly technicians a call today and see how we can help you get your device back to life! Cheers – Tim B
Ph:1300 19 33 31 or email us: [email protected]
Superior iPhone LCD Repair Kits
Broken your iPhone Screen and want to do the repair with a Screen Fixed iPhone Repair Kit? – Great !
The popularity of iPhone has taken over, its a world wide must-have. The only problem is iPhone screens are prone to breaking and the battery will eventually burn out. Welcome to Screen Fixed Australia – The leading iPhone, Google and Samsung Repair centre in Australia. We're here to fix and repair your iPhone screens. We now offer premium quality Replacement iPhone Screen Parts for you in Australia. We offer repair kits for all major models –  iPhone 5 , iPhone 5c, iPhone 5s, iPhone 6 and iPhone 6 Plus, iPhone 6S, iPhone 7, iPhone 8., iPhone 8 Plus and iPhone X. If you happen to have one of those days where your device hits the sidewalk then you can bet your bottom dollar that your screen will break into a million pieces. Not to worry…
Screen Fixed Brisbane, Sydney & Melbourne are your one stop iPhone, Google, Samsung and OnePlus repair shop, we take pride in putting you, the customer first. You can purchase our iPhone LCD Screen replacement kits online or you can pop on down to the repair shop and have your device repaired well you wait. No matter where you are, we're always trying to make the iPhone repair process as customer focused as possible. This December we will be launching a new line of products; iPhone LCD Screen Glass replacement kits.
What is an iPhone Screen LCD & Glass Replacement Kit ?
Screen Fixed Australia; Brisbane, Sydney and Melbourne is providing an effective solution to repair your iPhone on your own in the comfort of your own home. The good guys at Screen Fixed Brisbane, Sydney & Melbourne are offering a unique, tested and dependable iPhone repair kit that can help users not only save money, but also share in the great sense of achievement that comes with doing it yourself! Screen Fixed Australia has been moving mountains to bring an optimal line of repair kits to the customer. Today there are too many iPhones that sustain damage only to end up in the back of a sock draw, it's time to change that!
In short, Screen Fixed Australia is giving you the combination of superior iPhone replacement components and superior repair tools so you can get the job done. You can easily repair your iPhone 7 Screen without putting in too much effort or spending a lot of money. The best thing is that you aren't dependent on anybody else, Screen Fixed now gives you the resources you need to easily repair your iPhone, Google, Samsung or OnePlus Screen, battery or charge port from the comfort of your own home.
Why Choose Our iPhone Screen Replacement Kits?
• Prices That Don't Break The Bank
Not only is doing it yourself fun and liberating, it also saves you money! Screen Fixed Brisbane is offering 'Do it yourself' iPhone LCD screen replacement kits starting at $49.00. The best thing about it is our superior parts are backed with a 6 Month warranty. The kit also comes with an easy to follow guide so you can successfully repair your iPhone screen, Google Pixel Screen from the comfort of your home. 
• Superior iPhone Replacement Tools And Replacement iPhone Parts in one Kit
In our pursuit of customer satisfaction, we've found that attaining such reputation can really only come from two things; offering what we call "superior parts" coupled with "killer customer service".
• Guaranteed Satisfaction – 6 Month Warranty
Screen Fixed guarantees value in every repair kit, All parts are the very best quality. We say "Superior" grade parts or no parts! iPhone is something you use every day, don't replace your device with anything but the best. Screen Fixed pledges a 6 Month warranty on all parts sold.
• Suitable For All iPhones 5 – iPhone 7 Plus
We offer a wide range of iPhone screen replacement kits for the iPhone line. Currently we have; iPhone 5c lcd replacement kits , iPhone 5 lcd replacement kits , iPhone 5s LCD replacement kits , iPhone 4s replacement kits and more
• Step By Step Guide And Instructions
The repair kit comes with simple to follow, step by step instructions which allow you to perform the repair with ease. We also send you a link to a relevant repair video, this makes things super easy. Just in case you do happen to get stuck, we have a friendly customer service team who can assist you should this unlikely scenario play out.
iPhone Screen Replacement Kit Contents
Listed below is the key components that make up the repair kit.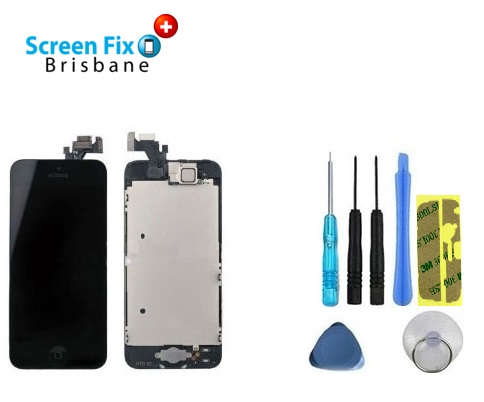 • Superior iPhone 5s Screen Replacement (LCD)
• Superior Phillips screwdriver
• Superior Pentalobe Screwdriver
• Superior Flat Head Screwdriver
• Superior Nylon Pry Tool
• Superior Suction Cup
• YouTube Repair Video
• Replacement Adhesive
• SIM Opening Tool
• Cleaning Cloth made with Micro Fiber
Thanks for reading, Have a wonderful day wherever you are!
Thanks,
Screen Fixed Team
[email protected]
1300-193-331
Screen Fixed Sydney CBD
Screen Fixed Brisbane CBD
Screen Fixed Melbourne CBD
Why Choose Screen Fix
With the advancement in technology, a new era has begun in the world of mobile phones. Being a need of today's world the innovations in mobile technology have enhanced its value even more. People hold a connection to the world through a simple device in their hand. So, it is really important to fix any issue that you might have with your mobile phones. Mobile phone repairs are available now on many branded phones such as Apple and Samsung.
About Screen Fix Brisbane:
Screen Fix Brisbane are is the one stop smartphone repair shop in the city. Our services include repairing of Apple iPhone 4, 4s, 5, 5c, 5s 6 and 6 Plus models. We also provide our expertise in repairing Samsung Galaxy S2, S3, S4 and S5 models. We at Screen fix Brisbane provide you with best and experienced people for iPhone repairs, Apple iPhone repairs and as well as Samsung galaxy repairs.
Apple iPhone Repairs Brisbane:
We have specialists who deal with iPhone repairs, especially when it comes to iPhone Screen repair. We are putting an emphasis on iPhone repair as we are getting an awful lot of people enquiring about iPhone repairs on a daily basis. Our technicians can easily fix your Apple iPhone Screen within 30 minutes now.
We give you a 6 month warranty to keep you comfortable with our services. If in the unlikely case of our workmanship and parts fail, then you don't have to worry about it. Just bring it to us and we will be at handle the rest.
There is a 6 months iPhone warranty to our customers. We provide you with guaranteed quality service at very affordable prices. You can take our assistance in any repairing of the iPhone such as iPhone Screen repair, back button, water damage, on/off button, volume button, iPhone home button replacement or any other issue that may appear. Our iPhone Screen repairing blog will guide you more about our service features and how we manage to repair your iPhone efficiently.
Sell broken iPhone:
If you have a broken iPhone and you want to sell it, then Screen Fix Brisbane will be pleased to serve you. We will buy your broken iPhone and pay you cash immediately!!
Screen Fix Brisbane will have your device repaired in one day. We have proven our self through the sheer number of repair that we have provided. We pride ourselves on providing a quality service every time, intern a customer walks away with a smile every time. Give us a call and our technician will help you. No matter where you are, our technician will come up to you. We do not want you to delay fixing your phone. Your time will not be wasted and you will receive our services at competitive prices. It is your choice if you want to choose original parts or local parts. We will give you the same service both ways with guaranteed repairs.
Choosing Screen Fix Brisbane for repairing your iPhone or Samsung device, It will be a very wise decision. You will definitely get the response you want. Contact us here or call us today @ 0431437809.