How to take good care of your Google Pixel 2 XL
Be proactive and protect your Google Pixel 2 XL
It is crucial to learn how to take good care of your Google Pixel. This is quite logical because this smartphone is relatively expensive. In addition, if you are not using and maintaining this device in the right way you will experience problems frequently. It turns out that it's not difficult to ruin your Google Pixel, but with the help of these tips, you should be able to keep the screen, charger, and battery safe. Now let's see what Google Pixel users can do to ensure the longevity of their device and the optimal performance of their Google Pixel smartphone.
Avoid water and wet environments
Even though Google Pixel is waterproof to some extent, the truth is that water and wet environments are not friends of this device. Try to keep your Google Pixel away from wet environments like shower rooms and bathrooms. Keep in mind that damage caused by liquids is not part of the warranty. You can also use a waterproof cover designed for this smartphone.
Avoid dirt and dust
This is another general advice for Google Pixel users. However, we all know that it is almost impossible to avoid dirt and dust regardless of the place where you are living. That's why it is highly recommended to clean the device to eliminate dirt and dust. The best option is to rely on a soft cloth without lint. Paper towels, towels, and abrasive cloths can lead to different types of damage.
So, disconnect Google Pixel from any power sources. Move any external devices and cables from the device. Remove liquids from the area. Don't use sprayers directly on the device.
Protect your Google Pixel Battery
Google Pixel has excellent battery life. Even though similar batteries have been used in older smartphones, people are still not sure how they should charge the battery. Should they wait until the battery is completely drained before charging? Is it a good idea to charge the battery 100%? According to many experts, these questions are irrelevant. This is a sophisticated device that has excellent power management that keeps the battery safe.
There are some things that you can do to keep the battery in a good shape. For instance, you can enable Wi-Fi. Wi-Fi is a much better option than mobile data because it uses less power. Even better, turn the Wi-Fi off when you don't need access to the Internet. You should also turn Auto-Brightness on and get data less frequently.
Let's be clear – no Google Pixel user wants a scratched screen. This phone comes with a protective glass which is quite powerful but doesn't make it scratch proof. So, be very careful when you put your device in your pocket or purse. Obviously, don't place it close to your keys. If you are living a fast-paced life, then you will probably forget about these tips after a while. Buying and using a screen protector or a case should solve this issue.
Don't clutter your Google Pixel 2 XL with photos, videos, and apps
In our opinion, it's a smart move to keep a small amount of memory free on your device. Check how much storage is available and remove the photos, videos, and apps that you don't need. Needless to say, you can always store your videos and photos in the cloud.
Be careful with the Google Pixel Type C Port
The connector that lets you transfer data and charge your phone is very fragile and sensitive. Don't yank the cables and conduct these activities gently and without hurries./,/p>
Follow these tips if you want to keep your Google Pixel safe. In case you have any problems, contact Screen Fixed for assistance.
Screen Fixed offers Google Pixel Repairs in Sydney, Brisbane and Melbourne
Phone: 1300-193-331
Email: [email protected]
Web: https://www.screenfixed.com.au
How to get water out of your iPad Pro Screen
How To Fix an iPad Pro Screen after it's been Dropped it in Water?
iPad is one of the most popular lines of tablet computers in the world. This is not a surprise because this device has incredible performance. It's relatively fast, it looks good and it comes with tons of features. Of course,all these great things make the iPad a little bit expensive, but it's definitely worth the investment.
When people are using an iPad they should be careful because these devices can easily get damaged when operated recklessly. Yet, there are situations when people, no matter how careful they are, witness accidents related to their device. For instance, many people have dropped their iPads in water. Many iPad owners think that this is the end of their tablet, but the truth is that there are a few things that they can do to protect the device from serious damage. We will use this article to explain what people should do in case they drop their iPad in water. Hint: We're a repair company and believe that all it devices like iPad Pro's can be repaired.
Keep the iPad Pro turned off
For starters, it is crucial to remember that the iPad must stay turned off when it is dropped in water. Most people believe that wiping the device with some cloth or paper is enough and that the next step is to turn on the iPad and see whether it works or not. But, the fact is that an activity like this can do more harm than good. Of course, you should use a cloth to wipe the iPad. Use the cloth to wipe literally every element of this tablet. But, once you are finished, you should not turn it on. It takes a few days for the iPad to dry off at room temperature. Don't be impatient because your impatience can lead to major damage.
Use silica gel
Waiting for the iPad to dry can be a difficult task for many people. That's why they are tempted to use a blow dryer to speed up the process. However, even though the iPad is a very durable and sturdy device, using a blow dryer can damage the solder which is obviously not a good thing. Obviously, the blow dryer will accelerate the evaporation, but the negative consequences outweigh the positive effects. Using a blow dryer can damage other internal parts of the device. If you want to speed up this process, you can use silica gel. You can find these packages at an electronics store. They are effective because silica absorbs moisture naturally. Just place the iPad and the silica gel in a zipper bag.
Try Rice but don't count on it!
This might sound odd, but the truth is that even rice can help you fix your iPad. There are no special requirements for this step. Just put some rice in a bowl and place the iPad on top of it. Similar to silica gel, rice has an ability to absorb moisture and water.
What to do if everything fails? Call Screen Fixed for iPad Pro Repairs
In case your iPad doesn't turn on after a few days even though you've tried all the tricks and tips found in this article, you should use a service centre. Screen Fixed is a great example of a repair service like this. We provide services in Sydney and Brisbane.
Screen Fixed Sydney
Suite 1020, Level 11,
66 Clarence Street,
Sydney City NSW 2000
Screen Fixed Brisbane
Level 16, 200 Mary Street
Brisbane
QLD
4000
If you drop your iPad in water, make sure to tell the whole story to our technicians. It's good to know that the iPad comes with indicators that can help us determine whether water is involved in the problem, but it's better to know exactly what we are trying to fix.
So, fixing an iPad that dropped in water is not a difficult task, but only if you are taking the right steps.
Brisbane CBD Repair Centre – Here's to progress ~
Screen Fixed, humble beginnings
Thinking back to 2014 will trigger many different things, for many different people. We saw a deadly outbreak of Ebola, Robin Williams left this world and we made space history by landing on the surface of a comet. What was I doing through all of this? In a scene, like the classic Universal picture, Frankenstein, I brought life to Screen Fixed.
Ever since I was a child, I've had an urge, a need, to have the latest tech, or the latest gadgets, and coupled with that need was a desire to know how it all worked, and that was the seed.
Cut to 2014 and my amazing team of equally passionate (nerdy?) and talented friends has not just allowed us to provide you, the tech lover and user, with unparalleled service for your many devices, but it's allowed me to live my life long dream.
New Screen Fixed CBD HQ – Level 16, 200 Mary Street, Brisbane City QLD 4000
The last three years have been so rewarding, not just for me, but for the whole team, watching the hard work we put in, pay off. The services we offer don't cut corners and as such we are able to provide the highest quality repairs possible for your smart phone of choice, and on top of the craftmanship and quality, it's the customer service that sets us so far ahead of the others.
We've found that our on-demand design really has had people talking, we travel across the city each day to each of our clients, to quickly, skilfully and (most importantly) conveniently meet our client's needs.
We refuse to rest on our laurels though, we strive to be the one stop repair choice for everyone. So, taking in feedback and listening to what people are asking for, we've seen a need for a centralized repair centre. This gives our clients more choices when it comes to dropping phones off, or picking them up. When it suits them, the important part.
Mary Street Brisbane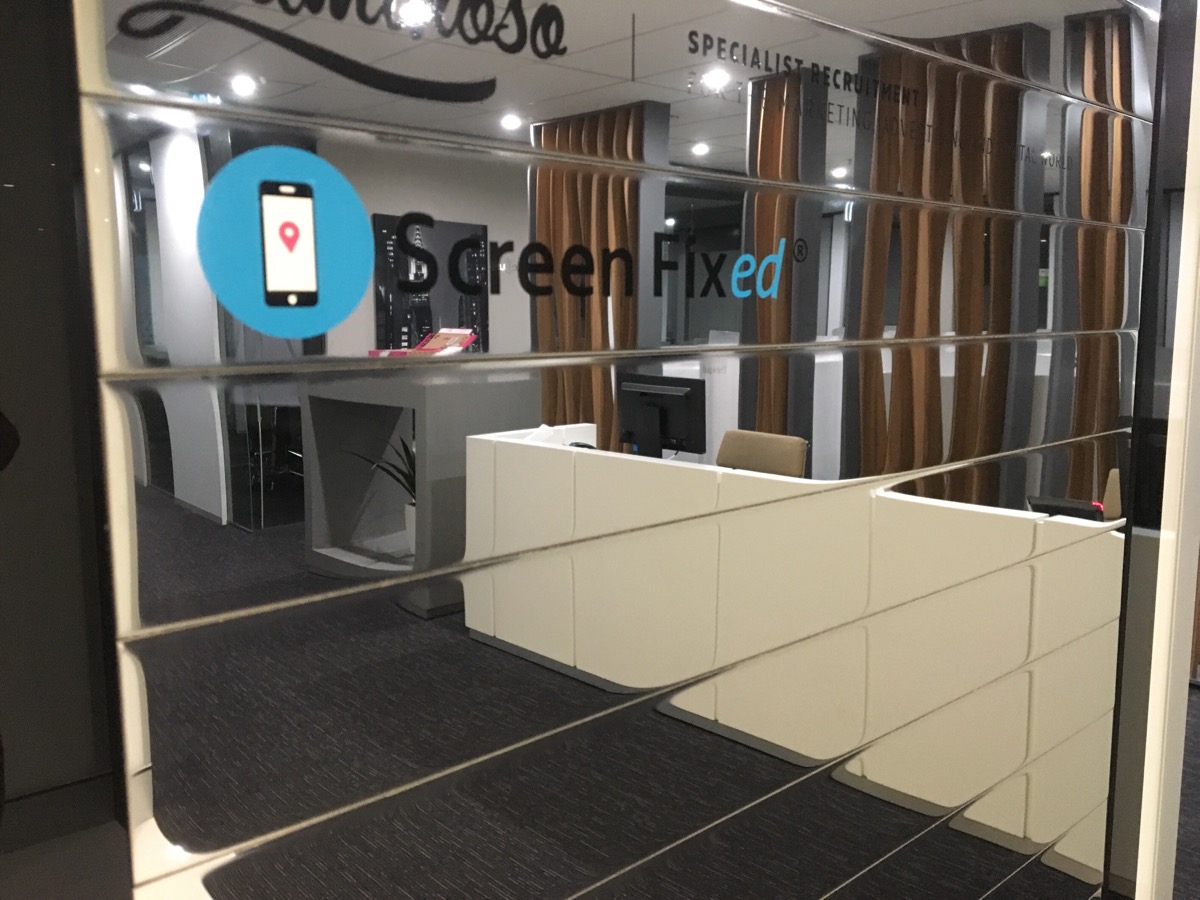 Now, the headline probably gives it away, but we have decided that my house probably isn't the best choice to set up our drop-in service, this is, in no small part, due to the fact that it's not in the CBD (and also because it's my house).
This month our new service launches, so in-between fixing screens and seeing to smart phone emergencies, we've been overseeing the fit out of our new tech cave. This one towers 16 levels above Brisbane's CBD, Suite 1613, Level 16, 200 Mary Street, Brisbane 4000, to be exact.
So, if you are busy in and out of meetings, but MUST have your phone fixed today, drop in, let us take care of it, and swing by when you're ready to pick it up, we're at your service.
What's next?
I was tempted to put an exclamation mark after that question mark because it more clearly represents how I feel about the future. Look at what's on the horizon, apart from an incredibly exciting new iPhone on the way (can you believe it's been 10 years already), but with the companies fighting for market share or our money, the winners in the race will undoubtedly be us. And that little kid inside me finds that thought thrilling.
These past years have flown by so quickly, starting out simply as an iPhone repair business we began to branch out, as other companies rose to the challenge that Apple laid out. The Samsung Galaxy is an amazing phone, Google Pixel is a slick little device, and also another brand of servicing we launched very successfully.
Consumer tech is evolving so quickly, I can't wait to share with you all the planned launches we have for many new devices still to come this year. It's our business to keep up with what's new and what's popular, because we want to be your go to when you have a tech issue, or even just a tech question. Everyone at Screen Fixed is thrilled in the direction we're heading in, for this year and beyond. Join us on the adventure and let us take care of all your repair needs.
Everything that's worth knowing about iOS 9



Apple has described iOS 9, much as Google has Android 6.0 Marshmallow, as an update that brings tweaks and refinements to improve the overall performance and usability of the operating system. Of course, there are some new features thrown in for good measure, and Apple has promised a smarter Siri, improved Maps and better multitasking.
Design and tweaks
Aesthetically, you won't notice much new once iOS 9 is installed. It looks the same as iOS 8, albeit with a subtly prettier San Francisco font (as first seen on the Apple Watch) that replaces the traditional Helvetica seen on iOS devices.
Changes start to appear when you delve further into the OS. Notifications, for example, are now sorted chronologically, rather than being illogically grouped by app. As somebody who uses their iPhone a lot, this little change makes a big difference when it comes to catching up on missed emails and messages. I'm still disappointed that Notifications aren't cleared when they are in apps, however, and Apple has yet to add an option to clear them all at once.
Multitasking has been given a makeover. A double-tap of the home button now shows your open apps in an elongated card view, not dissimilar to the multitasking view introduced in Android 5.0 Lollipop. This means you can better see what's going on before choosing to jump into an app.
Another new feature makes it easier to switch back to a previous app, thanks to a small button that appears at the top left of the display.
Siri
Siri has many more strings to its bow in iOS 9. Sliding to the left-most menu reveals a list of 'Siri Suggestions' filled with your most recent contacts and apps, and headlines Siri thinks you might want to read. At the time of writing, Siri is recommending I read an article about Tony Abbott – so I think it still may need a little work.
That being said, it's perhaps more intelligent than it gets credit for. Siri doesn't just know that you're a fan of Kingdom Rush and that it will be your go-to app. It registers your habits, learning, for example, that you call your mum every Saturday at 1pm, or that you check your emails every morning while commuting. One of our favourite features of iOS 9 is that plugging in headphones automatically fires up your music app of choice, be it Apple Music or Spotify.
Apps

Typically, Apple has given some of its own apps a lick of fresh paint in iOS 9. First up, Mail. If you get a phone call from an unknown number and that phone number is in your email, it will tell you who the call might be from. What's more, if you use Apple's Calendar app (I don't), events will show up automatically.
Notes has been given a long-overdue overhaul as Apple sets its sights on the likes of Evernote. The app now supports formatting, photo insertion and handwriting, and you can switch between typing and drawing in seconds. It's still no real contender for Evernote, but iCloud syncing.
Apple Maps has been given a major revamp in iOS 9. It's now better at recommending local businesses, such as nearby restaurants, and has added public transport directions for a number of major cities.
Performance, battery life and security
Apple promises better battery life with iOS 9 but I haven't noticed much of a difference. However, there is a new Low Power Mode which, until installing iOS 9, I didn't realise how much I needed. Now, once you see the 'red bar of death', as I like to call it, switching on Low Power Mode provides enough juice for another three hours by turning off push notifications, dimming the screen and lessening the power used by the processor.
Apple has made some enhancements to the overall security credentials of iOS, adding a new six-digit passcode option and improved two-factor authentication.
In short
Truth is, most people upgrading to iOS 9 probably won't notice much of a difference. But the small changes – be it the new font, improved Notifications or a battery-saving mode – will make a huge difference to many.
Is it worth upgrading? Yes. It's by no means Apple's most exciting iOS release, but it has given the overall usability of our iPhone 6 handset a much needed boost. Of course, those with an older device such as an iPhone 5 or iPad 2 may want to exercise more caution, but for those with a newer Apple device, there's no question.
The good
Better multitasking, Siri improvements, Low Power mode, improved security, overall usability improvements, no major glitches.
The bad
Apple Maps still isn't great, no option to clear all Notifications.
The ugly
Nothing.
iPhone 6S Repairs Brisbane – Screen Fixed

And just a reminder, Screen Fixed holds stock of iPhone 6S screens so we can complete your repairs on the spot.
Cheers
Stephen Batchelor
Superior iPhone LCD Repair Kits
Broken your iPhone Screen and want to do the repair with a Screen Fixed iPhone Repair Kit? – Great !
The popularity of iPhone has taken over, its a world wide must-have. The only problem is iPhone screens are prone to breaking and the battery will eventually burn out. Welcome to Screen Fixed Australia – The leading iPhone, Google and Samsung Repair centre in Australia. We're here to fix and repair your iPhone screens. We now offer premium quality Replacement iPhone Screen Parts for you in Australia. We offer repair kits for all major models –  iPhone 5 , iPhone 5c, iPhone 5s, iPhone 6 and iPhone 6 Plus, iPhone 6S, iPhone 7, iPhone 8., iPhone 8 Plus and iPhone X. If you happen to have one of those days where your device hits the sidewalk then you can bet your bottom dollar that your screen will break into a million pieces. Not to worry…
Screen Fixed Brisbane, Sydney & Melbourne are your one stop iPhone, Google, Samsung and OnePlus repair shop, we take pride in putting you, the customer first. You can purchase our iPhone LCD Screen replacement kits online or you can pop on down to the repair shop and have your device repaired well you wait. No matter where you are, we're always trying to make the iPhone repair process as customer focused as possible. This December we will be launching a new line of products; iPhone LCD Screen Glass replacement kits.
What is an iPhone Screen LCD & Glass Replacement Kit ?
Screen Fixed Australia; Brisbane, Sydney and Melbourne is providing an effective solution to repair your iPhone on your own in the comfort of your own home. The good guys at Screen Fixed Brisbane, Sydney & Melbourne are offering a unique, tested and dependable iPhone repair kit that can help users not only save money, but also share in the great sense of achievement that comes with doing it yourself! Screen Fixed Australia has been moving mountains to bring an optimal line of repair kits to the customer. Today there are too many iPhones that sustain damage only to end up in the back of a sock draw, it's time to change that!
In short, Screen Fixed Australia is giving you the combination of superior iPhone replacement components and superior repair tools so you can get the job done. You can easily repair your iPhone 7 Screen without putting in too much effort or spending a lot of money. The best thing is that you aren't dependent on anybody else, Screen Fixed now gives you the resources you need to easily repair your iPhone, Google, Samsung or OnePlus Screen, battery or charge port from the comfort of your own home.
Why Choose Our iPhone Screen Replacement Kits?
• Prices That Don't Break The Bank
Not only is doing it yourself fun and liberating, it also saves you money! Screen Fixed Brisbane is offering 'Do it yourself' iPhone LCD screen replacement kits starting at $49.00. The best thing about it is our superior parts are backed with a 6 Month warranty. The kit also comes with an easy to follow guide so you can successfully repair your iPhone screen, Google Pixel Screen from the comfort of your home. 
• Superior iPhone Replacement Tools And Replacement iPhone Parts in one Kit
In our pursuit of customer satisfaction, we've found that attaining such reputation can really only come from two things; offering what we call "superior parts" coupled with "killer customer service".
• Guaranteed Satisfaction – 6 Month Warranty
Screen Fixed guarantees value in every repair kit, All parts are the very best quality. We say "Superior" grade parts or no parts! iPhone is something you use every day, don't replace your device with anything but the best. Screen Fixed pledges a 6 Month warranty on all parts sold.
• Suitable For All iPhones 5 – iPhone 7 Plus
We offer a wide range of iPhone screen replacement kits for the iPhone line. Currently we have; iPhone 5c lcd replacement kits , iPhone 5 lcd replacement kits , iPhone 5s LCD replacement kits , iPhone 4s replacement kits and more
• Step By Step Guide And Instructions
The repair kit comes with simple to follow, step by step instructions which allow you to perform the repair with ease. We also send you a link to a relevant repair video, this makes things super easy. Just in case you do happen to get stuck, we have a friendly customer service team who can assist you should this unlikely scenario play out.
iPhone Screen Replacement Kit Contents
Listed below is the key components that make up the repair kit.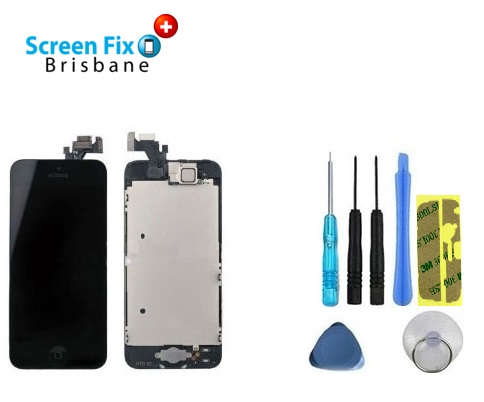 • Superior iPhone 5s Screen Replacement (LCD)
• Superior Phillips screwdriver
• Superior Pentalobe Screwdriver
• Superior Flat Head Screwdriver
• Superior Nylon Pry Tool
• Superior Suction Cup
• YouTube Repair Video
• Replacement Adhesive
• SIM Opening Tool
• Cleaning Cloth made with Micro Fiber
Thanks for reading, Have a wonderful day wherever you are!
Thanks,
Screen Fixed Team
[email protected]
1300-193-331
Screen Fixed Sydney CBD
Screen Fixed Brisbane CBD
Screen Fixed Melbourne CBD